Pioneering actor, now 100, reflects on life, faith, and change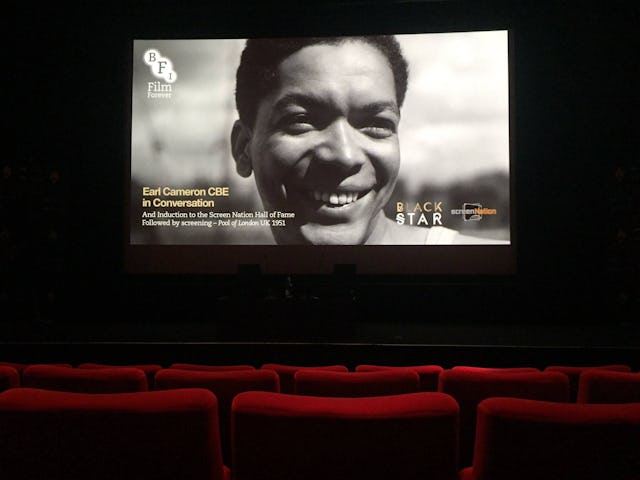 KENILWORTH, United Kingdom — When the 22-year old Earl Cameron arrived in England from Bermuda in 1939, most of the people of Caribbean origin whom he met there were struggling to find work.
"It was quite impossible for a black person to get any kind of job," recalls Cameron, who reaches his 100th birthday today. "The attitude was that they should go back to their own homeland. Some of them were veterans of the First World War, and even they couldn't get a job. When I look back, that was the condition."
"Today it's different and I'm glad I came at that time to be able now to see some of the wonderful changes that have taken place."
Bermuda-born Cameron, who became a Baha'i in 1963, is taking the opportunity of his centenary to reflect on his life and career as an actor. And his own role in breaking down the color bar for British audiences should not be underestimated. According to the British Film Institute's Screenonline guide to film and television history: "Earl Cameron brought a breath of fresh air to the British film industry's stuffy depictions of race relations. Often cast as a sensitive outsider, Cameron gave his characters a grace and moral authority that often surpassed the films' compromised liberal agendas."
Discovering the Baha'i Faith
As Cameron continued to work steadily through the early 1960s, he found himself searching for answers to life's questions. He had been troubled from his time in the merchant navy when he spent five months on a ship travelling to India.
"On this ship there were fights almost every day. I must say they were a very quarrelsome bunch of seamen for the most part! And then I saw Kolkata with all of its hungry people on the streets, and wondered, 'Why? Why is the world like this?'
Cameron found his questions answered by an old friend from Bermuda whom he met again in London. His friend was a Baha'i.
"Everything appealed to me," Cameron explains. "But we argued backwards and forwards. It took me some time to understand the difference between just an outstanding human being and what Baha'is call a Manifestation of God. When the penny dropped, I realized the difference of a Christ, or a Muhammad, or a Baha'u'llah, and from that moment on I could accept everything I read from Baha'u'llah."
Fully dedicated to his Baha'i beliefs, Cameron made a dramatic move of another kind, by uprooting with his family to the Solomon Islands to help in the development of the Baha'i community there. When he returned to the United Kingdom 15 years later, he picked up his acting career where it had left off. Continuing to work through his eighties and nineties, he had a major role as a controversial African leader in The Interpreter (2005), which starred Nicole Kidman, as well as cameo appearances in The Queen (2006) with Dame Helen Mirren, and Inception (2010).
Breakthrough into acting
Two years after his arrival, tired of carrying out menial jobs, Cameron had a lucky break: he was asked to cover a role in a popular musical theater show, Chu Chin Chow, when one of the actors in the cast did not turn up for work. His acting career took off and, for the next four decades, his face and rich, golden voice, became a well-known fixture on stage, and then on screen.
"I realized that there were very few parts to be had," Cameron explains. "I didn't kid myself. I'd been in the theater for at least eight years by the time I did my first film and I knew it was very limited. But I realized also at the time how fortunate I was to get that very first film."
That film was Pool of London (1951), considered groundbreaking in its employment of a leading, black character, and in its depiction of an interracial romance.
"It's a wonderful part," he says, "and still remains I think the best film I've done. It was fully true to life and very typical of England at that time," he recalls.
Seminal BBC television dramas that explored racism followed, including The Dark Man (1960), in which Cameron played a taxi driver facing prejudice in his workplace. At the same time, his became a familiar face in many classic television series of the era, including Doctor Who and The Prisoner. He also played opposite Sean Connery as James Bond's Caribbean ally Pinder in Thunderball (1965).
One film of which Cameron is particularly proud to have been involved with was the dramatization of the story of the Prophet Muhammad, The Message (1976). Cameron played the King of Abyssinia, or Negus, who offered safe haven to early Muslims in the time of the Prophet. The British Film Institute described his performance as a "scene-stealing cameo."
"How could I possibly turn down such a nice part like that?" he smiles. But despite personal critical and popular acclaim, roles in films were few and far between for black actors.
"Always I had to wait months before I got another part. Now it has changed to some degree and there are many brilliant black actors. But for the most part you have to go to Hollywood to get recognition."
At one point in his career, Cameron did even consider crossing the Atlantic and trying his luck in American films. "But I was married with five children," he says. "My wife was white and myself black, and California wasn't a very welcoming place for mixed marriages. So I thought, 'No, I'm not going to expose my family to the kind of racism that I was bound to encounter.' So I forgot about it."
"I say now that I was very fortunate. Because at that time, I know I would have got caught up in that way of life. So I look back on it and thank God I did not go to Hollywood."
An extraordinary contribution
In the last decade, Cameron has been the recipient of many honors. Her Majesty Queen Elizabeth II awarded him the high accolade of Commander of the Order of the British Empire (CBE) in the 2009 New Year Honors list, and last year he became the first inductee into the Screen Nation Foundation's Hall of Fame, which celebrates individuals of African Caribbean heritage who have made extraordinary contributions on screen. He has also been lauded in Bermuda where the main theater in Hamilton was renamed The Earl Cameron Theater in 2012. He is hoping to make a journey there in October for a special presentation.
As he enters his eleventh decade, Earl Cameron is still very much alert, keen to continue acting, and contribute to Baha'i community activities.
"We need to realize that God has a plan for humanity and each individual one of us is somewhat part of that plan," he says. "God has a plan that this world will become a world of peace. The immediate future seems dire. With the conditions that are prevailing, humanity will sooner or later have no choice but to return to God's guidance."
"There's hardly a minute of my life when I'm not thanking God for my existence on this earth and having found this wonderful Faith. To me if I had lived a million times again and not had the Baha'i Faith it would all be for nothing."