Embracing oneness means rethinking prosperity and development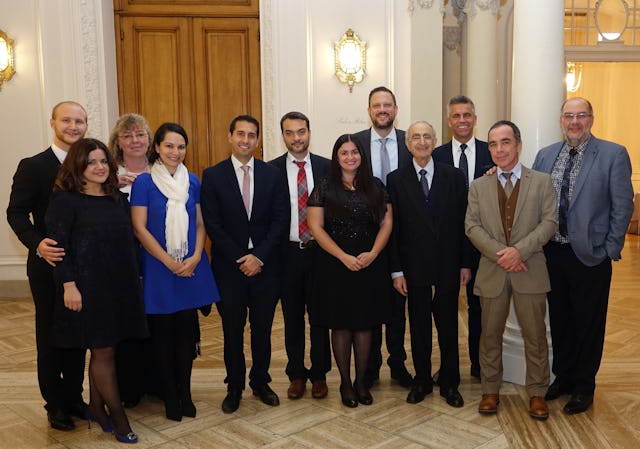 LUXEMBOURG, Luxembourg — Unity Foundation, an organization started by a small group of Baha'is 25 years ago and inspired by the teachings of the Faith, has been one of several Baha'i-inspired agencies that assist social and economic development organizations around the world to access essential funding. The challenge before it is how to facilitate the flow of funds from one part of the world to another while preserving and strengthening a local community's ownership and capacity to direct its own path of development.
Baha'i endeavors for social and economic development operate on the principle that populations should be the protagonists of their own material, spiritual, and intellectual advancement, not just recipients or mere participants. The majority of such initiatives are sustained by resources in the local communities that are carrying them out. Some efforts continue to grow in scale and complexity and eventually require financial resources from outside the community to enable them to extend proven practices and have even greater impact.
Agencies inspired by the Baha'i teachings, such as Unity Foundation, have been learning about raising financial resources in support of development initiatives that have reached a certain level of growth and complexity. In these instances, Baha'i institutions that have been following such organizations closely arrange contact with the Foundation.
These projects fall mainly into two categories: those that provide education for children through the establishment of community-based elementary schools and those that develop the capacities of youth in rural areas to become promoters of community well-being.
"Guided by our principles, we do not initiate, carry out, or manage the development projects in other parts of the world," said Fernand Schaber, the President of Unity Foundation's Board of Directors. "We see ourselves as equal partners with those projects that receive funds. Our role is to represent their vision to the donor community in Luxembourg.
"We also do not choose the projects. They are recommended to us through certain Baha'i institutions. We have learned that working within this system helps us to avoid the many pitfalls that can arise in local communities when financial resources are not provided through appropriate channels."
A central element of the Foundation's understanding of development is its conception of prosperity.
"We recognize the importance of being prosperous in material means, infrastructure, and technology, but it is of equal, if not greater importance, for communities to be prosperous in family and societal unity, in harmony, in high-mindedness, in peace, in generosity, in justice, and in equality between men and women," explained Board of Directors member Angela Roldan. "The hope is that children in every society will grow up with a heightened awareness that the accumulation of wealth should not only benefit themselves but be a source of the wealth and happiness of others.
"From this perspective then, we do not adhere to the practice of dividing the world into groups of 'the developed' and 'the underdeveloped.' Every country in the world has a long way to go in learning how to reach true prosperity. What is required is a global process of learning, in which each nation and people, all on an equal footing, can contribute its share of insights and be seen as a protagonist along its own path of development. And this is the principle that we try to reflect in our relationships with our partners in other parts of the world," Dr. Roldan said.
In the context of arranging funds for projects around the world, the Foundation is learning how to contribute to the discourse on development in Luxembourg, drawing on the experiences being generated globally from the projects with which it works.
"The conversations we have with donors are not just about fund raising. More broadly, these conversations are raising consciousness about the concepts and principles central to development," said Yves Wiltgen, the Foundation's Public Discourse Officer. "We are promoting a dialogue around these ideas in different spaces, including with individual donors, in schools, in the media, and in special gatherings or other events.
"Interestingly, people see that insights generated in other parts of the world are also applicable to the development of Luxembourg. For example, knowledge is being gained about how communities can become united around higher aspirations and how people can take initiative to help others in their communities," continued Mr. Wiltgen.
The work of Unity Foundation has advanced in collaboration with the Luxembourg Government's Ministry of Foreign Affairs, which has developed a deep appreciation for the principles guiding the organization. Together, the Foundation and the Ministry have facilitated the flow of more than €3 million to projects in Africa, Latin America, and Southeast Asia over the past five years.
On 19 November, Unity Foundation hosted a formal dinner to mark its twenty-fifth anniversary. One hundred sixty individuals attended the event at the Cercle Cite in Luxembourg. Guests included people from the business, media, and government sectors, as well as other individuals who have supported the Foundation's work.
"This event was a lot more than a celebration of twenty-five years of Unity Foundation," stated Mr. Wiltgen. "It is a sign of a certain level of consciousness that material wealth in one part of the world and its absence in others is not acceptable when we consider the whole world as one family."