Temple for South America awakens sense of the sacred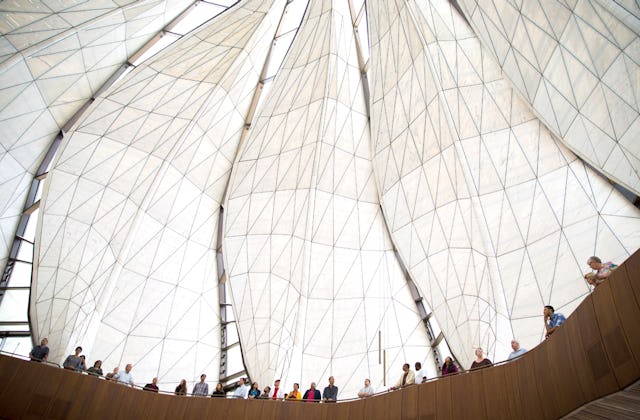 SANTIAGO, Chile — As growing numbers of people discover the newly inaugurated Baha'i House of Worship in Santiago, Chile, many are rediscovering a sense of the sacred as they are enfolded in the Temple's glass and marble wings.
The Temple has had over 40,000 visitors since its inauguration in October. Whether from Santiago or further afield, they are drawn to the House of Worship for a variety of reasons. Some are keen to see the building that has won international praise for its architecture. Others, curious about a Temple inspired by a Faith about which they may have little awareness, come to learn more. And yet others arrive searching for a sense of sacredness that is lost in today's world.
"We had expected large numbers of visitors but have been surprised by just how many have come in the first month alone," explained Jenny Perez, a representative of the Chilean Baha'i community.
With this large wave of visitors, a relationship is forming between the city and the Temple, perched on the foothills of the Andes mountain range, overlooking it. Those who arrive find not only a beautiful space for contemplation and prayer, open to all, but also a place from which to draw inspiration and reconnect to a higher purpose.
Popular media sources and websites have been attempting to capture the experience of visiting the Temple through innovative means, such as 360-degree photography.
In order to enrich the experience of those who arrive, the Baha'i community has opened up informal spaces for conversations on the Temple land. These spaces allow visitors who are interested to learn more about the nature and purpose of the House of Worship, to explore spiritual themes and concepts, and to contemplate the implications of a life dedicated to the betterment of society.
"We hope that the Temple will be a setting where people can explore, to the extent they wish, a deeper understanding of what a sacred or spiritual experience can be, and how it is connected to the way that we each contribute to the well-being of each other and of the world," explained Ms. Perez.
(Editor's note: On 11 December 2016, a correction was made to the second paragraph to reflect that the number of visitors to the Temple since its inauguration has been 40,000, not 25,000.)