Exploring religion's contribution to peace in Southeast Asia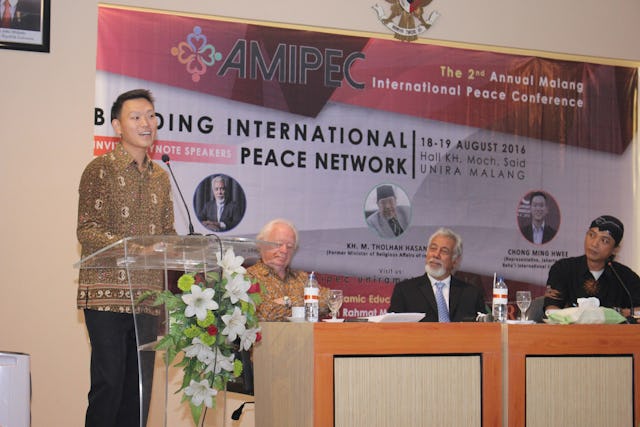 JAKARTA, Indonesia — Religion has a unique contribution to make to social progress and the realization of peace.
This is one of the ideas that the Baha'i International Community (BIC) Regional Office in Jakarta has been exploring since its establishment two years ago.
"Religion and spirituality are deeply rooted in the hearts of Southeast Asian people," explains Mr. Chong Ming Hwee, representative of the BIC Regional Office in Jakarta. "Featuring prominently in our daily lives, religious principles and values permeate our consciousness, thoughts, decisions, and actions.
"There is a need for us to re-examine religion's place in the modern world and to arrive collectively at new insights about the contributions it can make to the advancement of the whole of society," Mr. Chong continues.
In this connection, the BIC Jakarta Office has been contributing to a dialogue about how spiritual teachings can foster consciousness of the oneness of humankind by building a sense of human identity that transcends religious, ethnic, and national divides.
At the heart of this endeavor is a belief that religion—as a system of knowledge that provides unique insight into human nature and society—has a power to tap human agency and inspire commitment to action in individuals and whole populations.
"Perhaps more than ever, we need to understand religion's constructive power which, despite its abuse over the centuries and today, we believe can enable people to overcome age old prejudices and work together for a harmonious and just society," explains Mr. Chong.
The history of the Baha'i Faith in Southeast Asia stretches back to the time of Baha'u'llah. In the late 1800s, two Baha'is traveled extensively throughout the region, visiting towns and villages that are located in present-day Myanmar, Thailand, Malaysia, Singapore, and Indonesia. As a result of their efforts to share the Baha'i teachings with others, several early Baha'i communities were formed.
Over the many decades that have followed, Baha'i communities have become established in every country of the region, working to promote unity and build communities in which the central principles of the Baha'i Faith—such as the oneness of humankind and the equality of women and men—would progressively find expression in new patterns of interactions and relationships.
The creation of the BIC Jakarta Office in 2014 marked a milestone in the Baha'i community's efforts to contribute to thought about social and spiritual advancement in Southeast Asia. Here, all of the major world religions are present, and the question of religion's role in promoting peace and unity is highly relevant.
The BIC's efforts are carried out in collaboration with others, including the Association of Southeast Asian Nations (ASEAN), Southeast Asia's major regional organization. These efforts have included participation in various conferences and forums, the organization of spaces for dialogue among diverse actors, and the publication of articles.
In the last year, for example, the BIC assisted with an ASEAN Foundation project exploring the role of faith-based organizations in contributing to the betterment of the region. A BIC representative was also invited to give a keynote address at the 2nd Annual Malang International Peace Conference in August.
Reflecting on the dynamism of the people of Southeast Asia, Mr. Chong states that the progress being made in the dialogue on peace "reflects their desires and aspirations for a better region."
"We hope that growing circles of individuals and groups will work shoulder-to-shoulder for the betterment of our societies."