World calls for unconditional release of Baha'i leaders and other Iranian prisoners of conscience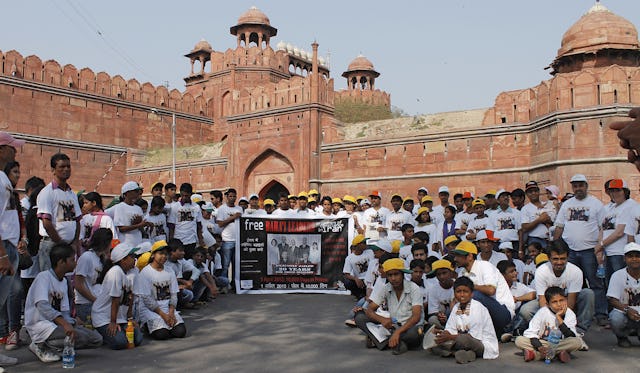 NEW YORK, United States — The plight of Iran's seven imprisoned Baha'i leaders has been capturing the public's attention in 12 of the world's major cities, where a day of action marked the combined total of 10,000 days that the seven have so far spent in prison.
In an initiative coordinated by human rights organization United4Iran, the image of the seven was widely displayed on Sunday 1 April – on mobile billboards, buses, bicycles, a canal boat, and T-shirts.
The billboard image of the Baha'i leaders was a mosaic of smaller photographs of hundreds of people currently jailed in Iran including journalists, trade unionists, politicians, student and women's activists, and religious leaders.
"The plight of these seven is representative of the countless Iranian men and women who have been jailed for defending their freedom and human rights," said Firuzeh Mahmoudi, United4Iran's director and founder.
"Our message to the seven is this: The world has not forgotten you, and we will continue to fight for your freedom and that of other Iranian prisoners of conscience."
In New Delhi, India, around 200 campaigners carrying banners marched across the city in an action that was co-supported by the Trans Asia Alliance and the Asian Center for Human Rights. The Center's director Suhas Chakma said, "Iran has failed to respect international human rights standards on fair trial and therefore must release the seven unconditionally."
In South Africa, buses displaying the image of the seven prisoners are following routes in Johannesburg, Cape Town and Pretoria.
A large truck bearing the same image toured Brazil's federal capital, Brasilia. Brazilian supporters wore T-shirts that spelled out "Libertem Baha'is Irã" ("Free Baha'is Iran").
In Berlin, Germany, the picture of the seven was displayed around the city on special bicycles. The initiative was launched by German Member of Parliament Serkan Tören, who is a Muslim of Turkish origin. "I urge the Iranian Government to grant the Baha'i Faith community the right of religious freedom to which Iran has an obligation under international law. I urge the international community to maintain pressure on Iran in order to fulfill its international obligation," said Mr. Tören.
In the Netherlands, the poster of the prisoners travelled by barge on Amsterdam's canals while mobile billboards also generated interest as they toured Sydney (Australia), Paris (France), Wellington (New Zealand), London (U.K.) and Washington D.C. (U.S.A).
The seven Baha'i prisoners are Fariba Kamalabadi, Jamaloddin Khanjani, Afif Naeimi, Saeid Rezaie, Mahvash Sabet, Behrouz Tavakkoli, and Vahid Tizfahm. Prior to their arrests in 2008, they were members of an ad-hoc national-level group which attended to the spiritual and social needs of Iran's Baha'i community. They are each serving 20-year jail terms handed down after six brief court sessions characterized by a lack of due legal process. The seven categorically denied such charges as espionage, propaganda against the Islamic republic and the establishment of an illegal administration.
"The seven were, and remain, totally innocent of any wrongdoing," said Bani Dugal, the Baha'i International Community's principal representative to the United Nations.
"Ten thousand days of their lives have literally been stolen from them forever – days which they would have dedicated to the service of their fellow countrymen," she said. "The day is long overdue when these prisoners are freed to be able to make their contribution to the country they love."