Arrests are part of official campaign to block development of Iranian Baha'is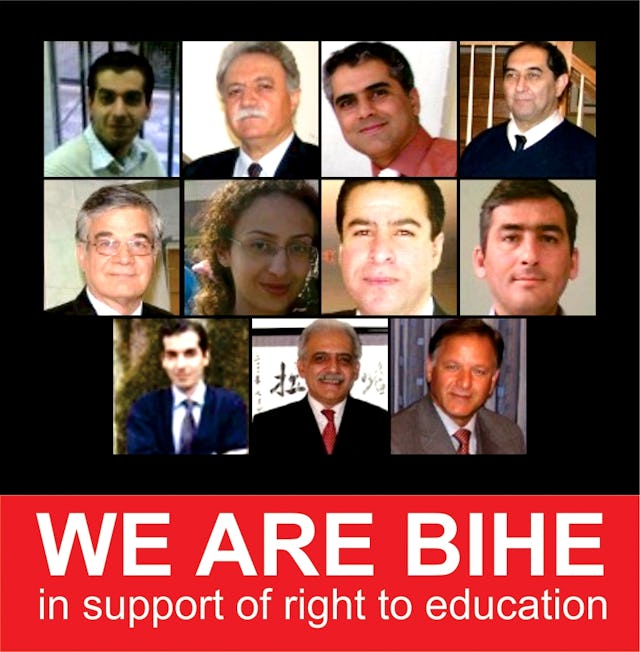 NEW YORK, United States — The series of raids carried out on some 30 homes of Baha'is, who were offering education to young community members barred by the government from university, is the latest action in Iran's ongoing policy to keep its largest non-Muslim religious minority on the margins of society.
Since the 1979 Islamic revolution, Baha'is have been systematically deprived of higher education. With nowhere else to turn, the community initiated its own educational programmes.
"The Iranian authorities are clearly determined to make it impossible for the Baha'i community to educate its youth whose opportunities are blocked by the state," said Bani Dugal, Principal Representative of the Baha'i International Community to the United Nations.
"Denying people the right to education is a denial of their right to exist as free and productive human beings – and to make a contribution to their society," she said.
Some 16 Baha'is were arrested on, or after, Saturday 21 May. One has since been released. Eight other Baha'is were interrogated by Intelligence Ministry officers and released afterwards.
"This action demonstrates the lengths to which Iran is willing to go in its campaign to demoralize Baha'i youth, erode their educational hopes and eradicate the Baha'i community as a viable group within their country," said Bani Dugal.
She also pointed out that, in pursuing its policy, the Iranian government is flagrantly abusing international law.
Under the International Covenant on Civil and Political Rights, "everyone shall have the right to freedom of thought, conscience and religion."
Article 13 of the International Covenant on Economic, Social and Cultural Rights recognizes "the right of everyone to education," and that, "higher education shall be made equally accessible to all, on the basis of capacity."
"Iran ratified both Covenants in 1975," noted Ms. Dugal.
"Shameless persecution"
Initial news of the arrests has provoked condemnation from governments, non-governmental organizations, human rights activists, and others.
The International Campaign for Human Rights in Iran (ICHRI) has called for the immediate release of the prisoners.
"These attacks on the Baha'i Institute for Higher Education must stop and authorities should immediately release Baha'is recently detained," said Hadi Ghaemi, spokesperson for the ICHRI.
"Iran's discrimination against Baha'is in the sphere of education is part of an ongoing policy of religious persecution and a clear violation of its international obligations," he added.
The chair of the U.S. Commission on International Religious Freedom, Leonard Leo, said, "The Iranian government will stop at nothing in its shameless persecution of the Baha'is in Iran."
"It's not enough that authorities already have a policy in place preventing Baha'is from attending Iranian universities – the government is now systematically trying to dismantle the Baha'i community's internal initiative to ensure that its youth have the opportunity to get an education beyond high school."
With these arrests, said Mr. Leo, "the number of Baha'is currently imprisoned is approaching 100, a number not seen in more than two decades."
"Progress and development blocked"
During the years immediately following the 1979 Islamic revolution, large numbers of young Baha'is were expelled from education. At the college-level, the ban was virtually total.
The brutal targeting of Baha'is by the new regime – including the execution of more than 200 prominent members – was met with widespread international criticism, including a series of UN resolutions condemning Iran's human rights violations.
The government softened its approach, allowing elementary and secondary schoolchildren back into school. But university students remained excluded.
That the government's hope through such policies was to see Iran's 300,000 Baha'is vanish into obscurity – while evading international sanctions – was confirmed with the discovery of a secret memorandum that outlined a plan to "block" the "progress and development" of the Baha'i community.
That memorandum, signed in 1991 by Supreme Leader Ali Khamenei, specified a series of repressive measures against Baha'is, including expelling students from universities if they are discovered to be Baha'is.
The Baha'i Institute for Higher Education
A simple mechanism was employed to exclude Baha'is from higher education. Everyone who took national university entrance exams was asked to declare their religion. Applicants who were not one of the four officially recognized religions in Iran – Islam, Christianity, Judaism, and Zoroastrianism – were turned away.
Baha'is sought to mitigate the effects of the ban by initiating their own community education programme in the late 1980s, known as the Baha'i Institute for Higher Education (BIHE). Baha'i professors and lecturers who had been dismissed from their positions gave freely of their time and experience to teach Baha'i students at home and via correspondence courses.
"The Iranian government has made repeated attempts to bring to a halt this quiet, peaceful and vital initiative," explained Bani Dugal.
In 1998, government agents arrested at least 36 people after raiding more than 500 homes, and confiscated much of the BIHE's equipment and records. The raids drew considerable international condemnation.
In an apparent response to the pressure, Iran officially announced in late 2003 that it would drop the declaration of religious affiliation on university application forms.
Continuing prohibition
Since that time, Iranian government officials have claimed their educational system is open to Baha'is and free of discriminatory practices.
But a variety of means have been devised to obstruct Baha'is entering higher education. These have included creating barriers to admission in the national computer system and widespread efforts to expel Baha'is if they manage to enrol in classes.
One young Baha'i recently told the ICHRI, "I was barred from education even before enrolling as an undergraduate. Instead of receiving my college entrance exam results, the phrase 'your file is incomplete' was sent to me and thus I never got the chance to enrol."
In 2006, a confidential communication from the director general of the Central Security Office of the Ministry of Science, Research and Technology – which oversees all of Iran's state-run universities – instructed 81 universities to expel any Baha'i students.
"[I] the identity of Baha'i individuals becomes known at the time of enrolment or during the course of their studies, they must be expelled from university," stated the letter.
Expulsions have occurred in the past few months in Tehran, Yazd, Mazandaran and Isfahan. In a number of cases, the action was carried out shortly before Baha'i students were about to take final exams.
A Baha'i who was studying engineering in Yazd was recently denied access to his online student account after his name was deleted from the system. The National Education Measurement and Evaluation Organization in Tehran informed him that Baha'is have no right to higher education. When he requested a written document stating the reason for his expulsion, he was refused.
With few other options open to them, many young Baha'is continued to carry out their studies with the BIHE.
"Blocking access to education may superficially appear to be of less concern than physical attacks on the community or the imprisonment of its leaders," said Bani Dugal, "but the consequences of the policy will resonate for generations."
"These injustices are a reflection of the terrible oppression that has engulfed the whole of Iran. Large numbers of young people are being excluded from higher education based on their political or religious beliefs, or the exercise of their freedom of expression," she said.
"Our call is for the Baha'is of Iran – and all who are the victims of such abuse – to be granted their full rights of citizenship so they may fulfil their heartfelt aspiration to contribute to the advancement of their nation.
"Showing respect now for the rights of the Iranian Baha'is would signal a willingness on the part of the authorities to respect the rights of all their citizens," said Ms. Dugal.
The sixteen Baha'is (and their cities of residence) arrested on, or after, Saturday 21 May are Afrouz Farmanbordari (Gohardasht); Foad Moghaddam (Isfahan); Vahid Mahmoudi, Vahid Mokhtari, Farhad Sedghi, and Ramin Zibaie (Karaj); Amir-Houshang Amirtabar, Navid Asadi, and Sadaf Sabetian (Sari); Amanollah Mostaghim (Shiraz); Mahmoud Badavam, Soheil Ghanbari, Noushin Khadem, Kamran Mortezaie, and Shahin Negari (Tehran); and Danial Oji (city of residence unknown). It is understood that Vahid Mokhtari has already been released.
Special Report
*The Baha'i World News Service has published a Special Report which includes articles and background information about Iran's campaign to deny higher education to Baha'is. The Special Report contains a summary of the situation, feature articles, case studies and testimonials from students, resources and links. *
*The International Reaction page of the Baha'i World News service is regularly updated with responses from governments, nongovernmental organizations, and prominent individuals, to actions taken against the Baha'is of Iran. *
The Media Reports page presents a digest of media coverage from around the world.