Six Bahá'í leaders arrested in Iran; pattern matches deadly sweeps of early 1980s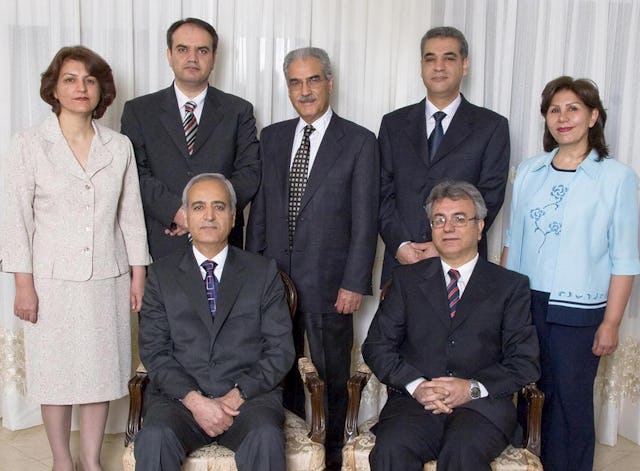 NEW YORK, United States — Six Bahá'í leaders in Iran were arrested and taken to the notorious Evin prison yesterday in a sweep that is ominously similar to episodes in the 1980s when scores of Iranian Bahá'í leaders were summarily rounded up and killed.
The six men and women, all members of the national-level group that helped see to the minimum needs of Bahá'ís in Iran, were in their homes Wednesday morning when government intelligence agents entered and spent up to five hours searching each home, before taking them away.
The seventh member of the national coordinating group was arrested in early March in Mashhad after being summoned by the Ministry of Intelligence office there on an ostensibly trivial matter.
"We protest in the strongest terms the arrests of our fellow Bahá'ís in Iran," said Bani Dugal, the principal representative of the Bahá'í International Community to the United Nations. "Their only crime is their practice of the Bahá'í Faith."
"Especially disturbing is how this latest sweep recalls the wholesale arrest or abduction of the members of two national Iranian Bahá'í governing councils in the early 1980s -- which led to the disappearance or execution of 17 individuals," she said.
"The early morning raids on the homes of these prominent Bahá'ís were well coordinated, and it is clear they represent a high-level effort to strike again at the Bahá'ís and to intimidate the Iranian Bahá'í community at large," said Ms. Dugal.
Arrested yesterday were: Mrs. Fariba Kamalabadi, Mr. Jamaloddin Khanjani, Mr. Afif Naeimi, Mr. Saeid Rezaie, Mr. Behrouz Tavakkoli, and Mr. Vahid Tizfahm. All live in Tehran. Mrs. Kamalabadi, Mr. Khanjani, and Mr. Tavakkoli have been previously arrested and then released after periods ranging from five days to four months.
Arrested in Mashhad on 5 March 2008 was Mrs. Mahvash Sabet, who also resides in Tehran. Mrs. Sabet was summoned to Mashhad by the Ministry of Intelligence, ostensibly on the grounds that she was required to answer questions related to the burial of an individual in the Bahá'í cemetery in that city.
On 21 August 1980, all nine members of the National Spiritual Assembly of the Bahá'ís of Iran were abducted and disappeared without a trace. It is certain that they were killed.
The National Spiritual Assembly of the Bahá'ís of Iran was reconstituted soon after that but was again ravaged by the execution of eight of its members on 27 December 1981.
A number of members of local Bahá'í governing councils, known as local Spiritual Assemblies, were also arrested and executed in the early 1980s, before an international outcry forced the government to slow its execution of Bahá'ís. Since 1979, more than 200 Bahá'ís have been killed or executed in Iran, although none have been executed since 1998.
In 1983, the government outlawed all formal Bahá'í administrative institutions and the Iranian Bahá'í community responded by disbanding its National Spiritual Assembly, which is an elected governing council, along with some 400 local level elected governing councils. Bahá'ís throughout Iran also suspended nearly all of their regular organizational activity.
The informal national-level coordinating group, known as the Friends, was established with the knowledge of the government to help cope with the diverse needs of Iran's 300,000-member Bahá'í community, which is the country's largest religious minority.