Anniversary of the Martyrdom of the Bab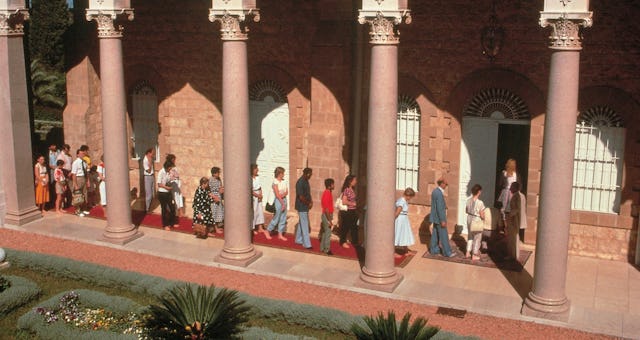 HAIFA, Israel — On July 9, Baha'is around the world commemorate the date in 1850 that the Bab - one of two main figures in the founding of their Faith - was executed by a firing squad in Iran, then called Persia.
The Bab, whose name means "gate" in Arabic, had declared in 1844 that He was a messenger of God sent to prepare the way for the long-awaited promised one of all religions who would come to establish an age of universal peace. In 1863 Baha'u'llah announced publicly that He was that promised one.
The Bab attracted tens of thousands of followers, and the unease and commotion created by His message led the authorities to put him to death on a charge of heresy. He and a disciple who begged to share His martyrdom were executed by a firing squad of 750 soldiers in a public square in Tabriz.
The remains of the Bab are now entombed in Haifa, Israel, in a beautiful shrine on Mount Carmel.
How the Bab was brought to Haifa to His final resting place is in itself a special chapter in Baha'i history. Indeed, 'Abdu'l-Baha, the son of Baha'u'llah who was the head of the Baha'i Faith from 1892 to 1921, considered providing a fitting burial for the Bab to be one of the key duties and accomplishments of his ministry.
The remains of the Bab had been rescued by His followers from a ditch near the execution site and were carefully hidden in Iran for nearly half a century.
In 1899, at the behest of 'Abdu'l-Baha, the remains were transported - under great threat from civil and religious authorities and others - by way of Isfahan, Kirmanshah, Baghdad and Damascus, to Beirut and then by sea to Acre north of Haifa where 'Abdu'l-Baha lived.
'Abdu'l-Baha hid the remains for another decade before presiding over an emotional ceremony on Mount Carmel where he himself placed the sacred trust at a specially prepared site that had been designated by Baha'u'llah for the final resting place of the Bab.
Much later, an exquisite shrine with a golden dome was built over the tomb. This building has become one of the best known landmarks of northern Israel and is a place of pilgrimage for Baha'is from all over the world.