Two Baha'i musicians receive Grammy nominations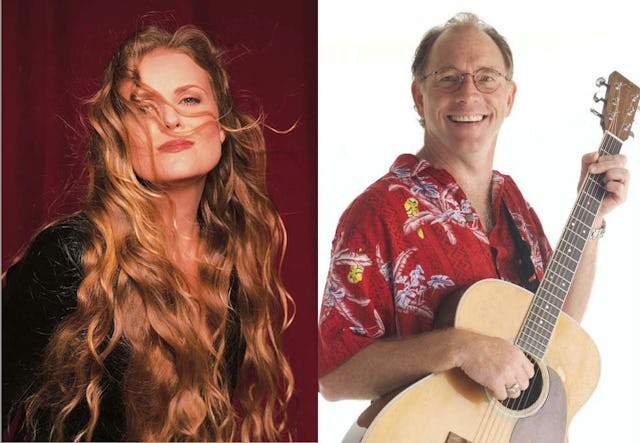 NEW YORK, United States — Two Baha'i musicians have received separate nominations for a 2006 Grammy Award, the music industry's best known and most prestigious awards.
Singer songwriter Red Grammer received a nomination for "best musical album for children" for his 2005 album, BeBop Your Best.
Jazz singer Tierney Sutton received a nomination in the "jazz vocal album" category for her 2005 album I'm With the Band.
The nominations were announced in New York on 8 December 2005. Winners in each category will be announced at the 48th annual Grammy Awards live television ceremony, scheduled to be held in Los Angeles on Wednesday, 8 February 2006.
BeBop Your Best is Mr. Grammer's sixth album for children. Its songs focus on the development of moral character, with titles like "Truthfulness," "Responsibility," "Kindness," and "Integrity." The songs on the album were co-written with veteran song writer Pamela Phillips Oland.
"One of the really cool things about getting a Grammy nomination for an album like this is that it is all about character, which is somewhat unusual for a popular album," said Mr. Grammer, who has been a Baha'i for 33 years.
Mr. Grammer said the nomination was also personally significant because "it reflects recognition of excellence by the music industry."
"It isn't a nomination by your listeners," he said. "It is a nomination by your colleagues."
Long known for his upbeat and inspiring songs for young people, Mr. Grammer has won considerable recognition for his previous albums, many of which also touch on Baha'i themes, such as the need to treat all people with equality. His album Teaching Peace was recognized as one of the "top five" children's recordings of all time by the "All Music Guide."
Ms. Sutton's I'm With the Band album was recorded live in March 2005 at Birdland in New York. Produced by Elaine Martone, I'm With the Band is Ms. Sutton's first live recording and her sixth album.
Ms. Sutton, who has been a Baha'i since 1981, said she was deeply gratified to be nominated for the award.
"The way we arrange our music is based on the principle of consultation, and our band is very much run on Baha'i principles," said Ms. Sutton. "So there is very much a sense with everybody in the band that what we do is essentially a spiritual thing."
In June 2005, Tierney won JazzWeek's Vocalist of the Year Award. An active educator, she has taught in the Jazz Studies Department at the University of Southern California.
The Grammy Awards are the music industry's best known and most prestigious award. They are granted by the National Academy of Recording Arts and Sciences, Inc., an organization of musicians, producers, engineers and recording professionals, who each year choose the nominees and final award winners.