Radio program attracts wide audience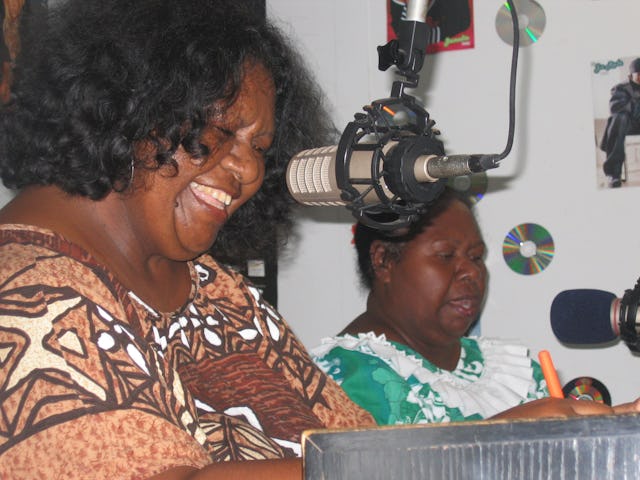 THURSDAY ISLAND, QUEENSLAND, Australia — A weekly Baha'i radio program is building bridges of understanding across the more than 100 islands of the Torres Strait in the far north of Australia.
Aimed at providing a service to the Baha'i community scattered throughout the islands, the program is now also attracting participation by many of the majority Christian population.
The program uses a talkback format and functions as an on-air study circle, based on a self-directed approach to training adopted by Baha'i communities worldwide.
In a study circle, participants read through selected passages from the Baha'i writings together, and share their understandings with the guidance of a facilitator.
The program is broadcast on Thursday Island community radio station 4MW, which is listened to by some 85 percent of Torres Strait residents.
Titled "Baha-Bi-Buiya," which means "Light-Light-Light" in the two main dialects of the Torres Strait and in Arabic, the program has been broadcast now for more than a year.
Local Baha'is Janelle Gebadi and Margaret Gabey host the program, with the support of back-up presenter Ina Aiputa.
The presenters read the passages from the Baha'i writings and then the audience participates in what are often lively discussions.
Ms. Gebadi said that when the show started, people were slow to participate but that has completely changed.
"Now people are asking so many questions," she said, adding that she thinks it is good that people find the program so interesting.
"Each week we try and make people understand or (become) aware of the Baha'i Faith because sometimes people misunderstand the Faith," she said.
Joanne Thompson, a local resident, said there have been many benefits from the program.
"It is helping to break down the barriers," she said.
"In the beginning there was open hostility to the program but now more and more people are starting to ask questions-- more people are turning up to our functions."
"I am staggered at the content, the nurturing and the courage that these magnificent ladies (present) over the airwaves," she said.
(Story adapted from "Australian Baha'i Report.")