The Bahá'í World Publication sees new enhancements and essays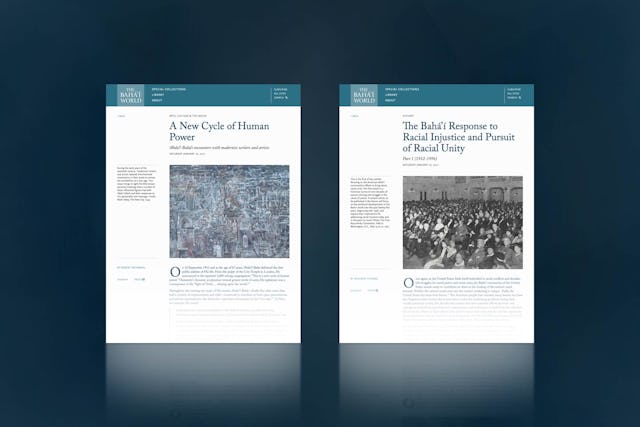 BAHÁ'Í WORLD CENTRE — The release of new essays today on The Baha'i World online publication is complemented by recent developments on the website.
The website, launched in May 2019, has been expanded to include a library of works from The Bahá'í World volumes as well as a "Special Collections" section that brings together a thematically-curated selection of articles.
Among the newly published articles on the site is "A New Cycle of Human Power," which brings to light the little-known encounters of 'Abdu'l-Bahá with influential "modernist" writers and artists. The essay explores the impact of 'Abdu'l-Bahá on a number of individuals who were at the cultural vanguard of a society undergoing rapid, radical change.
Another new article, "The Bahá'í Response to Racial Injustice and Pursuit of Racial Unity: Part 1 (1912-1996)," is the first of a two-part series on the American Bahá'í community's historical efforts to address racial injustice which has afflicted the United States since its founding. Part 2 of the article, to be published at a later date, will look at the past twenty-five years and the evolving capacity of the Bahá'í community to contribute to racial justice and unity.
Since its launch in May 2019, The Bahá'í World online has sought to make available a selection of thoughtful essays and long-form articles on a range of themes concerned with social progress, conveying advancements in Bahá'í thought and action and reflecting the Faith's purpose in the world. Other articles in the past year have explored community, economic justice, existential stress, migration, and governance.
The Bahá'í World volumes were established under the direction of Shoghi Effendi shortly after the start of his ministry as Guardian in 1921. The first volume was released in 1926 under the title The Bahá'í Yearbook.