National bicentenary gatherings shine light on social themes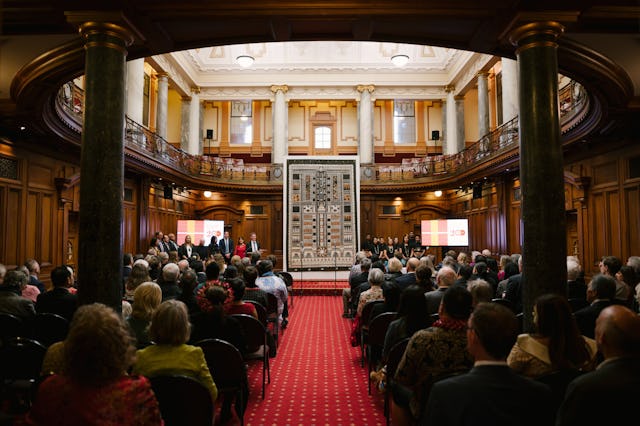 WELLINGTON, New Zealand — Recent bicentenary commemorations for societal leaders were celebratory occasions as well as moments of reflection on the challenges of our time.
In some communities, leaders were moved to express their appreciation of the Baha'i community's contributions to society during this special period. For example in Wellington, New Zealand, Member of Parliament Priyanca Radhakrishnan hosted a bicentenary celebration in the country's Parliament Buildings. "I can see that the work that you do in Aotearoa is rooted in the values and beliefs of the Faith," MP Radhakrishnan said, "for example inculcating values of love, unity, and kindness amongst children, encouraging young people to be constructive agents of change, and contributing to discussions across New Zealand on some of the challenges that face us as a nation."
A conference organized last month in Kyiv, Ukraine, brought together religious scholars, representatives of different Faith communities, students, and others to explore how the common underlying values of religion can contribute to societal progress.
"We want to investigate in this conference how we can go beyond simply recognizing what is common in all religions and act together to establish peace," said Alla Baranova, Secretary of the Baha'i National Spiritual Assembly of Ukraine and current head of the All-Ukrainian Council of Religious Associations.
Organized by Ukraine's National Academy of Sciences, the Ukrainian Association of Religious Studies, and the country's Baha'i community, the gathering included a session on the Bab's life and teachings and highlighted the life of one of His earliest followers—Tahirih. Tahirih is an iconic figure in the cause of women's advancement. In 19th century Iran, she called for a profound transformation in society's conception of women and advocated change in the habits and attitudes of society.
Tahirih's courage and heroism were also the subject of a documentary shown at a bicentenary celebration for dignitaries, representatives of civil society, journalists, and others in Tunis, Tunisia. The screening, held at L'Agora cinema, led to a vibrant discussion on the equality of women and men.
In Sydney, Australia, to honor the bicentenary, the Baha'i community organized a conference on social cohesion and inclusion. "The bicentenary period is an opportunity to reflect on Baha'i teachings related to knowledge, compassion, and justice," explained Ida Walker, of the country's Baha'i Office of External Affairs. "This conference provided a space to learn from the experiences of one another and build on the efforts of many individuals and organizations to overcome prejudice and injustice and foster inclusion in society."
At national gatherings in numerous countries, participants discussed the spirit of renewal brought by the Bab, as the Herald of Baha'u'llah, and the relevance of the Baha'i teachings in addressing the challenges of their societies. Attendees of many celebrations watched Dawn of the Light, which tells the story of eight people as they search for truth and meaning. They describe how their discovery of the Baha'i teachings brought hope and a way forward in addressing the social ills of our time. At a commemoration in Nur-Sultan, Kazakhstan, the film resonated with a large audience, many of whom were visibly touched by its message.
Other national governments also honored the historic period with special receptions. The Australian Parliament marked the anniversary during a session of its House of Representatives as well as an event last month in the distinguished setting of the Senate Alcove of Parliament House. The United Kingdom Parliament also held a celebration for the bicentenary, hosted by the All Party Parliamentary Group in Portcullis House. Malaysia's minister for national unity and social well-being, Waytha Moorthy Ponnusamy, recognized the Baha'i community's contributions to the country at a bicentenary celebration.
And at a reception in Madrid, Spain, held for national leaders, Ana Gallego, a director general of the country's ministry of justice, explained that "the mission of the Bab aimed to elevate the status of women, promote universal education and the harmony of science and religion, and overcome prejudice, corruption, and fanaticism at a time and place where these ideas were revolutionary."
In the Kurdistan Region of Iraq, where Baha'u'llah spent two years of His life, a commemoration focused on the history of the Faith in the region. Speaking about the significance of the bicentenary and the Twin Birthdays, a local leader, Sheikh 'Abdu'l-Rahman Al-Naqshbandi, described the period of Baha'u'llah's two-year stay in and around the mountains of Sulaymaniyyih more than a century and a half ago. The Figure of Baha'u'llah and the stories of His time there have stayed with the local population, Sheikh Al-Naqshbandi said. "Much was said and continues to be said about (Baha'u'llah); that He had a mission, knew God, and came to Hawraman."
Sheikh Al-Naqshbandi continued, describing that his account of the life of Baha'u'llah relies not on written history, but on the stories about His life that remain alive in the hearts and minds of the region's population. "If you speak the name of Baha'u'llah in Hawraman, everyone will know Him and what He spoke about. … I hope His teachings continue to spread and prosper, and that it becomes a source of attention. These teachings are richer and loftier than the diamond."