In President's call for unity, Italian Baha'i community sees common aim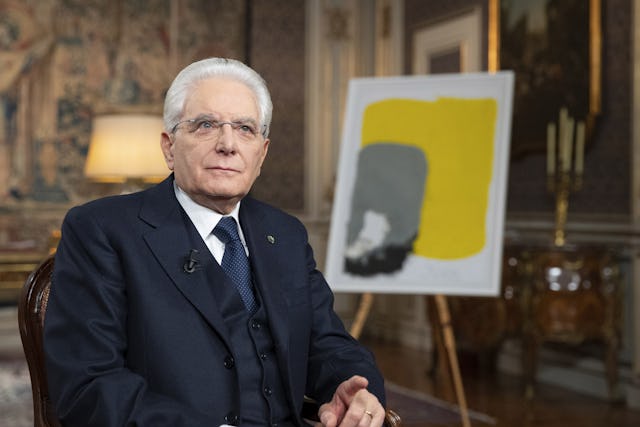 ROME — The Italian president's call for unity and coexistence in a widely-viewed speech has prompted a discussion about the importance of unity amid an increasingly polarized public discourse.
Seeing common ground with themes of President Sergio Mattarella's annual New Year's Eve speech, the Italian Baha'i community decided to write to him. Its letter expressed appreciation for the president's earnest call to unity and highlighted some concepts underlying the efforts of Baha'is working for the betterment of their country.
"We too feel, Mr. President, in our daily life, in our relationship with colleagues, friends, family and acquaintances a growing desire for unity. Some questions seem to be recurring," the Baha'i community wrote in its 18 January letter to the president. "What is the destiny of our people? What values, principles, rights and duties should guide our community? What contribution can every individual, youth, and adult, rich or poor, man or woman, Italian or immigrant, give in building a more just and united society, conscious of its high aim?"
The president sent a reply on 4 February to the Baha'i community's letter, expressing gratitude for its comments.
The president's 14-minute New Year's Eve speech, broadcast on the Internet and major Italian television stations, was watched live by more than 10 million people. "It was notable for its call to unity amid a divisive political environment in Italy," explains Guido Morisco, from the Italian Baha'i community's external affairs office.
"To feel like a community means to share values, perspectives, rights, and duties," President Mattarella said in his speech. "It means envisioning ourselves in a shared future, to be built together. It means responsibility, because each of us is, to a greater or lesser extent, a protagonist of the future of our country." President Mattarella also candidly assessed some of his country's challenges—particularly unemployment and high public debt—and greeted the country's 5 million immigrants.
"We've been very happy to hear our president talk with such a positive attitude and hope for the future," says Denise Cumella, also from the Baha'i office.
While this is the first time the president has corresponded with the Baha'is, the community has long engaged with its government. "This conversation with the institutions of our society started in the 1950s when the first Baha'is arrived in Italy. It is an expression of the constant love and respect for our nation and its institutions," notes Alessandro Benedetti, also with Italy's Baha'i external affairs office.
In October 2017, a special commemoration for the bicentenary of Baha'u'llah's birth was organized in the Italian Chamber of Deputies. Italian lawmakers, religious leaders, and civil servants met in the Parliament's Sala del Refettorio, where records and laws of the Italian legislature are kept and special events are occasionally held.
"The Baha'is of Italy are committed to giving expression to a vision of unity in their activities all over the country," Mr. Morisco adds.