Counsellors' conversation on spiritual transformation and social change: Part 1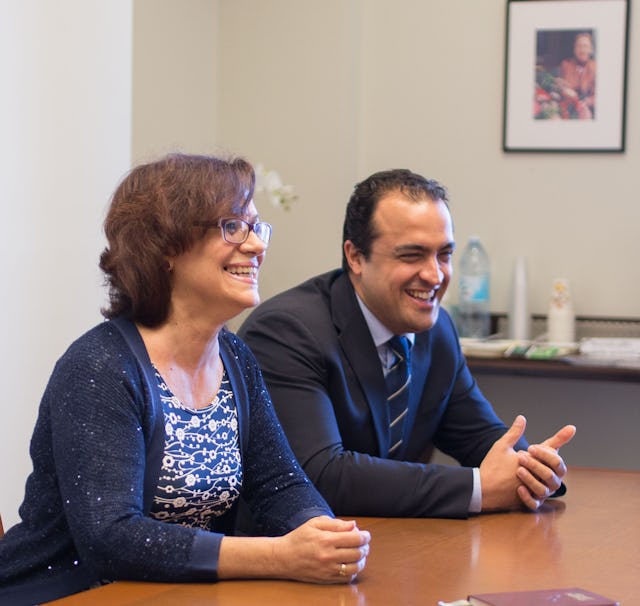 BAHA'I WORLD CENTRE — Some 80 senior officers of the Baha'i Faith, referred to as members of the Continental Boards of Counsellors, recently met for a conference at the Baha'i World Centre following the 12th International Baha'i Convention. On that occasion, the Counsellors were able to reflect on major developments in Baha'i communities around the world.
The Continental Boards of Counsellors assist Baha'i communities in their efforts to work toward social transformation by encouraging action, promoting learning, and diffusing insights being gained at the grassroots across a global community. They are appointed by the Universal House of Justice for five year terms.
During their recent meeting at the Baha'i World Centre, small groups of Counsellors joined in conversations with the Baha'i World News Service for a series of podcasts on community building, spiritual transformation, and social change.
In the podcast episode associated with this story, Counsellors discuss the impact of spiritual and moral education programs offered by the Baha'i community on youth and the communities in which they live, drawing on experiences in Cambodia, Kiribati, India, Norway, Spain, and Timor Leste (or East Timor).
One of the contributors, Daniel Pierce Olam, who has been working with communities in Timor Leste, says: "There's such a desire in the youth to contribute to raising up their country, and in the last couple of years we've seen many of the youth in the capital of Timor Leste, in Dili, have been attracted to the programs of Baha'i community, which equip them to contribute to this process of lifting up their community …. You see big groups of youth have come together, and they've started walking this path of service. This concept has really attracted them and they've really taken it up with great gusto."
"We have seen the impact young people are having on their neighborhoods where they live," explains Zoraida Garcia Garro, speaking about the Canary Islands in Spain. "And we are seeing the transformation within them as well"
Speaking about the experience of the Bahá'í community in New Delhi, India, Gloria Javid says: "The large groups of youth that support each other build an environment of positive peer pressure. We always think about in schools the peer pressure that pulls them in the wrong direction …. When there are large group of youth doing similar things, serving their society, being more respectful towards teachers in school, doing things for their younger siblings at home, it creates an environment where it makes doing good things more popular. And they support each other in that good work, so they don't feel … they are the odd ones out."