Leaders mark bicentenary in Pakistan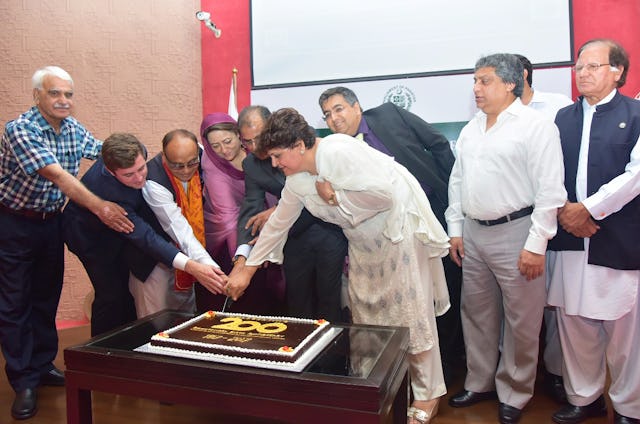 ISLAMABAD, Pakistan — All over the world, Baha'i communities are preparing for the 200 year anniversary of Baha'u'llah's birth, which will be celebrated on 21 and 22 October 2017. Already in the month leading up to this significant occasion, commemorations have been held in a growing number of countries.
In Pakistan, Member of Parliament Asiya Nasir hosted a gathering at the Pakistan Institute of Parliamentary Services in honor of the upcoming bicentenary. In her work, Ms. Nasir has been involved with initiatives for interfaith coexistence and harmony, and the celebration held on 12 September 2017 was no exception.
Over 100 parliamentarians, diplomats, and religious leaders were invited to attend the gathering, the theme of which was based on a well-known passage from Baha'u'llah: "The earth is but one country, and mankind its citizens."
Ms. Nasir was among a number of speakers at the event whose presentations highlighted this crucial theme.
"This event brought together representatives from many diverse religious groups-Christian, Muslim, Hindu, Sikh, Baha'i-to celebrate unity," said Marzieh Kamal, a representative from the Baha'i community.
The conference was organized following a message from the Federal Minister of Religious Affairs and Interfaith Harmony in Pakistan to the Baha'i community.
"Peace and unity are the pivotal teachings of the Baha'i Faith, and the Baha'i community of Pakistan are a peace loving community," wrote Federal Minister Sardar Muhammad Yousaf in a letter dated 16 August 2017. "Their contribution towards the betterment of individual, society and the country are truly admirable and have been in harmony with efforts being made by our Government of Pakistan."
Federal Minister Yousaf concluded his message by offering well wishes to the Baha'i community and expressing his confidence in its continued efforts to work for the peace, progress, and prosperity of Pakistan.