Day 1: Galvanic conference opening celebrates history and achievements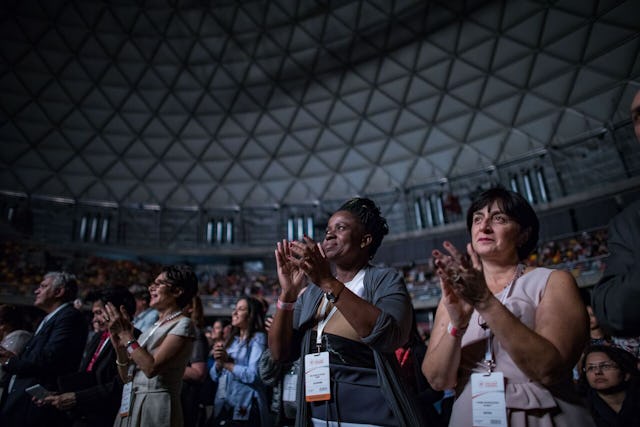 SANTIAGO, Chile — The vibrant color, music, and splendor of the cultures of South America's diverse peoples were on display at the opening of a historic conference here. The audience, numbering nearly five thousand, was galvanized as it celebrated the opening of the Bahá'í Temple for South America.
View a video capturing the joy and energy of those attending this momentous event.
The stage of Santiago's Movistar arena was the setting for the first session. Prayers, talks, musical performances, dances, and dramatic presentations—involving all ages—offered a glimpse of the rich cultural heritage of South America and explored the relationship between the continent and the Baha'i Faith.
Representing the Universal House of Justice, Mrs. Antonella Demonte read a special message addressed to the gathering at "a moment of high achievement for the Bahá'í world after much earnest striving".
"The process of raising up Bahá'í Houses of Worship, an endeavour whose origins can be traced back to the days of the Blessed Beauty Himself, has reached the point where today a Mother Temple stands upon the soil of every continent," read the message.
"A powerful spiritual beacon is now in full blaze at the foot of the Andes," the message said, describing the House of Worship as a vital institution which embodies "two essential and inseparable aspects of Baha'i life: worship and service."
The program that followed explored the history and unfoldment of the Baha'i Faith in South America.
Among the first Baha'is to set foot on the continent to share their beliefs were three brave North-American women—Martha Root, Leonora Armstrong and May Maxwell. Their heroic efforts in the early decades of the twentieth century were vividly brought to life by three actors in a dramatic presentation, titled Las Rosas Blancas de America.
The conference also explored the subsequent achievements of dynamic Baha'i communities that sprang up across the continent and the receptivity of pure-hearted people of that region from all backgrounds who responded to the message of Baha'u'llah.
An especially moving theme of the day was the historical response of the indigenous peoples who "embraced the vision of Bahá'u'lláh and His Faith, recognizing the power of His Word to liberate the soul and transform society".
Speakers from among the indigenous representatives captivated the audience with their accounts.
Music and artistic performances filled the arena with the joyful spirit of the occasion.
Two more days remain of the conference, during which many further facets of the development of the Faith will be explored.