In Malaysia, music and prayers reflect hopes for greater harmony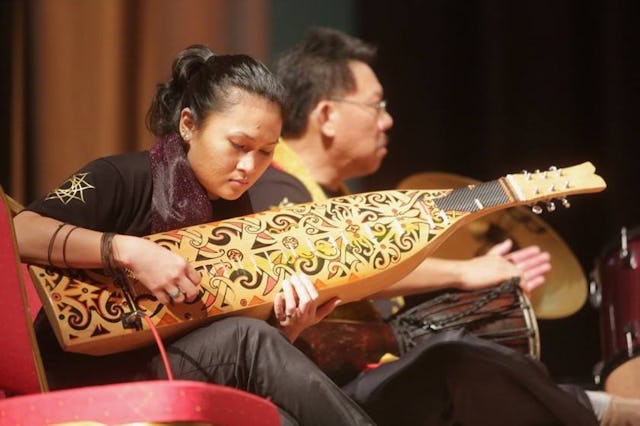 SUBANG JAYA, Malaysia — Hundreds of Malaysians joined with dignitaries from government, religious communities, and other organizations at a unique musical prayer gathering aimed at improving racial and religious harmony in their country.
Seven hundred people attended the Merdeka Unity Devotional on Sunday 31 August, organized by the Malaysian Baha'i community in response to their government's call for widespread prayer meetings to mark Independence Day.
"It is evident that in recent decades, the force unleashed by our ethnic mix has grown stronger," observed Tan Sri Joseph Kurup MP, Minister in the Prime Minister's Department, who was the guest of honor at the event.
"Our communities seem to have grown apart... our schools have become less diverse and our communities more polarized. This is not a problem we can ignore in the hope it will go away," he said.
Mr. Kurup expressed his "deepest gratitude" to the Baha'i community "for working hard to promote and preserve our unity for generations to come."
But "we cannot be satisfied by prayer meetings of this kind once a year," he added. "Rather we urge people of diverse backgrounds and faiths in our neighborhood to come together in prayer in home settings, as often as possible."
Also expressing her appreciation to the Baha'i community, Sarojini Pasupathy – a member of the Federation of Malaysian Sri Lankan Organisations – said, "For the first time after some time of feeling divided, I felt the oneness of Malaysians."
"It was so beautiful and touching. With more functions like yours, we will definitely overcome this negative trend and make Malaysia a harmonious country again."
As part of the program, a 95-voice choir sang musical settings of sacred scriptures. The gathering also observed a poignant period of silence in remembrance of almost 300 passengers and crew who lost their lives on Malaysia Airlines flight MH17 on 17 July.
The gathering was the culmination of Malaysia's first Baha'i Music Festival which had begun two days earlier at the Subang Jaya Baha'i Center, some 20 kilometers west of the capital Kuala Lumpur.
Ranging in age from 9 to 62 years old, the Festival's participants traveled from all over Malaysia as well as Singapore to discuss their experiences of community building activities in their own localities. In workshop meetings, they shared their musical skills, learned how to work more collaboratively, and developed approaches that could employ their talents in the further development of their home communities.
The oldest attendee – known as Uncle Chin, who traveled from the state of Sabah to attend – was one such enthusiastic participant, joining in communal singing, composing music with a group, and beating out rhythms in a drum circle.
"If you think you're too old, I can't help you," he joked with his fellow musicians. "But if you want to feel younger and happier then join us!"