"Grave concern" over Iran's human rights abuses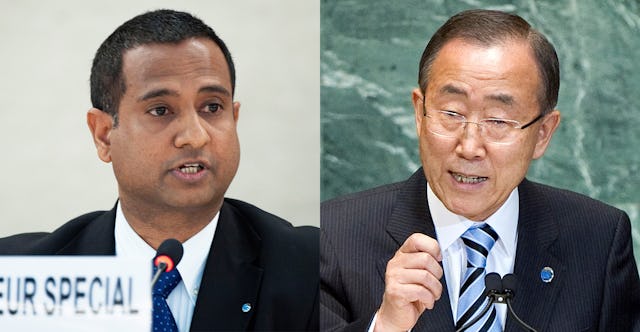 UNITED NATIONS, United States — Two new high-level reports issued here last week expressed concern over continuing human rights violations in Iran, highlighting intensifying attacks on journalists and human rights defenders and continuing discrimination against women, girls, and minorities, including members of the Baha'i Faith.
In his annual report on Iran to the UN General Assembly, Secretary-General Ban Ki-moon expressed "grave concern" over reports of torture, amputations, unfair trials, overuse of the death penalty, and the persecution of minorities, including Baha'is.
Ahmed Shaheed, the special rapporteur on human rights in Iran, also released his report to the Assembly, saying he had this year "catalogued a wide range" of human rights violations, including illegal limits on freedom of expression, failures of legal due process, attacks on freedom of religion, and the wrongful imprisonment of children.
"These violations are products of legal incongruities, insufficient adherence to the rule of law, and the existence of widespread impunity," said Mr. Shaheed.
Bani Dugal, principal representative of the Baha'i International Community to the United Nations, said the two documents paint a grim picture of life for the people of Iran.
"The two reports tell of a country where fundamental freedoms such as the rights to due process, speech, assembly, and religious belief are consistently and harshly denied, even though Iran has pledged to uphold such freedoms.
"They also outline the degree to which Iran has refused to cooperate with international human rights monitors, such as Mr. Shaheed, in defiance of the international community, which has repeatedly called on Iran to live up to its obligations under international law," said Ms. Dugal.
Mr. Ban's report highlighted the situation of journalists, human rights defenders, and women's rights activists, who he said are increasingly targeted by the Iranian government as it seeks to limit freedom of expression or assembly.
"As of December 2011, at least 40 journalists had reportedly been imprisoned, with several others at risk of arrest," said Mr. Ban.
Mr. Ban also noted that human rights defenders have reportedly been tortured while in detention all for "peacefully exercising their right to freedom of expression, association and assembly."
He also took note of the situation of minorities, highlighting in particular Iran's Baha'i community. More than 474 Baha'is have been arrested since 2004, he said, and Baha'is face "severe socioeconomic pressure." He noted for example that Baha'i students are prevented from pursing higher education.
Dr. Shaheed's report extensively discussed freedom of religion, specifically addressing the situation of Baha'i, Christian, and Dervish communities in Iran. "Members of both recognized and unrecognized religions have reported various levels of intimidation, arrest, detention and interrogation that focus on their religious beliefs," said Dr. Shaheed.
Dr. Shaheed devoted two paragraphs to the situation of the Baha'i community of Iran. He noted that while the government claims that Baha'is have "equal legal, social and economic rights," he continues to receive reports that Baha'is "face intimidation and arrest because of their religion."
"For example, on 17 February 2012, officials reportedly arrived at a charity event in Mashhad, demanded the cell phones of all present, required them to report on their personal details, and identify their religion in writing and in front of a video camera....
"Moreover, individuals that identified themselves as Muslims were reportedly separated from Baha'is, questioned about their relationships with Baha'i attendees and released. The authorities then reportedly proceeded to arrest a number of Baha'is," wrote Dr. Shaheed.
Dr. Shaheed also expressed concern about revisions to Iran's national "Islamic Penal Code," which he said treats men and women unequally and institutionalizes religious discrimination.
"For example, article 558 of the revised Islamic Penal Code stipulates that diya (blood money) be equally distributed to religious minorities that are recognized by the Constitution. However, equitable application of the law does not apply to religions that are not recognized by the Constitution, such as the Baha'i."
His report also expressed concern over violations of the rights of children, noting in particular that Iran itself had recently announced that some "70 children that had not committed any crime lived in prisons because their mothers were imprisoned." Other reports, he noted, indicated that as many as 450 innocent children are wrongfully imprisoned in this way.
"In addition to being deprived of childhood experiences, these children are also exposed to poor prison conditions, including poor hygiene and malnutrition, which drastically impair their physical, emotional and cognitive development and place them at a serious disadvantage when they are released with their parent," wrote Dr. Shaheed.
Dr. Shaheed concluded: "The submissions and interviews considered for this report provide a deeply troubling picture of the overall human rights situation in the Islamic Republic of Iran, including many concerns which are systemic in nature."