UN experts' concern for religious minorities in Iran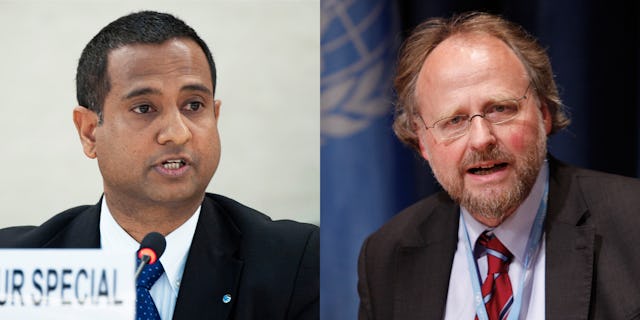 GENEVA, Switzerland — Two United Nations Special Rapporteurs have expressed their deep concern at the situation of minority religions in Iran.
The Special Rapporteur on the situation of human rights in Iran, Ahmed Shaheed, has joined with the Special Rapporteur on freedom of religion or belief, Heiner Bielefeldt, to call for a "thorough and independent review" of "all cases against individuals arrested and prosecuted on charges related to the enjoyment of the right to freedom of religion and belief."
"No individual should be arrested for peacefully exercising the rights to freedom of religion and belief, expression and association," they said.
Dr. Shaheed stressed that the arrest and prosecution of individuals for religious affiliation runs counter to the protection of minority religions in Iran's Constitution and represents a violation of the country's obligations under the International Covenant on Civil and Political Rights, which Iran ratified in 1975.
The Special Rapporteurs welcomed the recent release of Christian Pastor Youcef Nadarkhani, who had received the death sentence on a charge of apostasy. The experts highlighted however the arrest and detention of hundreds of Christians over the past few years and called on the Iranian authorities to "ease the current climate of fear in which many churches operate..."
"Iran possesses the basic legal framework to guarantee Christians, as a group, the right to freedom of religion, and should ensure that this right is granted in practice as well," said Dr. Bielefeldt, who noted that "the right to conversion in this context is an inseparable part of freedom of religion or belief..."
He also called for the protection of Baha'is and other religious minorities who are not recognised in Iran's Constitution. The cases of 495 Baha'is are still active with Iranian authorities, with some 111 Baha'is currently serving prison sentences.
The conviction of apostasy and death sentence for Pastor Nadarkhani – who was born to Muslim parents but converted to Christianity at the age of 19 – sparked strong condemnation from governments, organizations and religious leaders around the world. In October 2011, the Baha'i International Community issued a statement in his support describing the sentence as "reprehensible" and "a violation of every legal, moral, spiritual and humanitarian standard." Earlier this month, Pastor Nadarkhani's charge was reduced to "evangelizing Muslims," and his sentence to three years, which he was credited with having already served.