Attacks on Baha'is continue as Iran's human rights record comes under further UN scrutiny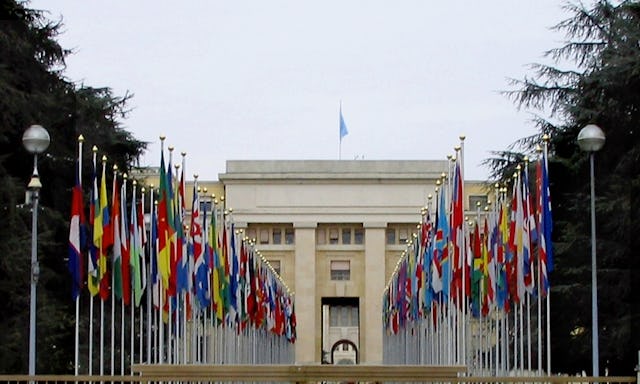 GENEVA, Switzerland — As a United Nations body concluded that Iran's persecution of Baha'is is clearly violating one of the world's major human rights treaties, the Baha'i International Community has learned of a recent wave of attacks on Baha'is and their property.
In Rasht, three women were arrested on charges of activity against national security following terrifying raids on 16 Baha'i homes. In Semnan, around ten Baha'i-owned shops were sealed up by the authorities and two business licences were cancelled. In the city of Sanandaj, it has been reported that authorities have attempted to persuade groups of Baha'is to give an undertaking not to participate in gatherings – known as the Nineteen Day Feast – held in the homes of their co-religionists.
"These recent events have all the appearance of being centrally coordinated," said Diane Ala'i, representative of the Baha'i International Community to the United Nations, "and clearly contradict statements we often hear from the Iranian authorities that Baha'is are entitled to the same rights as others and that activities related to personal beliefs and community affairs are permitted."
More than 100 Baha'is are currently held in Iranian prisons. They include the community's seven leaders – each serving 20-year jail sentences on trumped up charges – and seven educators imprisoned for their involvement in an informal initiative established to help young Baha'is barred by the government from higher education. But that is not the whole story.
In addition to those already behind bars, more than 300 Baha'is who have been previously arrested and then released are either awaiting trial or the call to begin serving out their sentences. The sums they have been required to post for bail – most often using property deeds or business licenses as collateral – are exorbitant. Hundreds of Baha'i homes have been raided and personal belongings – including books, computers, mobile phones, photographs and documents – have been confiscated.
All of this constitutes a further drain on the resources of Baha'is who are already being subjected to wide-ranging and systematic efforts to impoverish them through tactics such as: being debarred from owning – or working in – more than 25 types of business; the summary cancellation of business licenses; the sealing up of Baha'i-owned shops; the threatening of employers against hiring Baha'is; and the banning of young Baha'is from higher education.
Yesterday, the UN Human Rights Committee – a body of 18 independent experts – criticized Iran's non-compliance with the International Covenant on Civil and Political Rights (ICCPR), which the country has signed and ratified.
The Committee's findings came two weeks after a hearing at which an Iranian government delegation sought to defend their human rights record. The delegation's 27-page written report claimed that "no Iranian citizen enjoys priority over others due to his/her race, religion or particular language."
During the hearing, numerous questions were posed by the Committee about Iran's treatment of Baha'is. One Committee member, Ahmad Fathalla of Egypt, said that since religion and conviction or belief are given the same status in the ICCPR, Iran must allow Baha'is the right to manifest their beliefs "both individually and in community with others, both in public or in private," even if the authorities do not consider the Baha'i Faith to be a religion.
Concern was also expressed over a wide range of other human rights violations, including the high rate of death sentences, the lack of women in top government positions, and the widespread use of torture.
Among its conclusions, the Committee urged Iran to "take immediate steps to ensure that members of the Baha'i community are protected against discrimination in every field, that violations of their rights are immediately investigated, that those found responsible are prosecuted and that they are provided with effective remedies."
Welcoming the Committee's report, Diane Ala'i said, "The UN Human Rights Committee is telling Iran to stop making excuses and to live up to its commitment to protect the rights of all its citizens to enjoy complete freedom of religion."
Baha'i World News Service coverage of the persecution of the Baha'is in Iran
*The Baha'i World News Service has published a Special Section which includes further articles and background information about Iran's campaign to deny higher education to Baha'is. It contains news of latest developments, a summary of the situation, profiles of imprisoned Baha'i educators, feature articles, case studies and testimonials from students, resources and links. *
*Another Special Report offers articles and background information about the seven Iranian Baha'i leaders – their lives, their imprisonment, trial and sentencing – and the allegations made against them. It also offers further resources about the persecution of Iran's Baha'i community. *
*The International Reaction page of the Baha'i World News service is regularly updated with responses from governments, nongovernmental organizations, and prominent individuals, to actions taken against the Baha'is of Iran. *
*The Media Reports page presents a digest of media coverage from around the world. *