"Baha'i Question" cited at European Parliament human rights hearing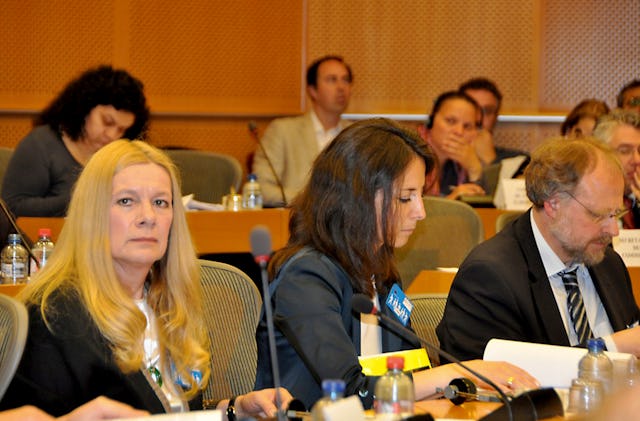 BRUSSELS, Belgium — Victims of religious intolerance are not just people deprived of the right to practice their faith – they suffer abuses in every aspect of their daily lives.
This observation was made at a hearing held before the European Parliament's Subcommittee on Human Rights.
Penelope Faulkner – a member of the European Platform on Religious Discrimination and Intolerance (EPRID) – highlighted the degree to which freedom of religion or belief is threatened around the world.
It is a "massive problem," said Ms. Faulkner. "Especially in countries where the state...incites hatred, religious minorities are defenceless.
"They lose their rights, their livelihood and, in many cases, their lives."
"This is the case of the Baha'i in Iran where the authorities implement a systematic plan to deal with what they call the 'Baha'i Question' – with specific directives to block access to education, confiscate property, deny employment and deny citizenship rights to anyone known to be Baha'i," said Ms. Faulkner.
Her comments came just days after some 16 individuals were arrested in Iran for trying to operate an informal university to provide education to Baha'is who have been barred from higher education by the government. See https://news.bahai.org/story/827.
Ms. Faulkner also noted that recent research has found that 70% of the world's population is living in places where religious freedom is restricted or abused.
"It is in every continent, every community, including Europe. The devastating toll of the human suffering in recent months shows that EU policies in this area are not only needed but much overdue," she said.
"Human beings are responsible"
The United Nations Special Rapporteur on freedom of religion or belief, Heiner Bielefeldt, told the hearing that he sees such violations on a daily basis.
"And what shocks me most is the degree of hatred against religious minorities between communities – hatred often nourished by a paradoxical combination of fear sometimes bordering paranoia and contempt," said Professor Bielefeldt.
But such hatreds can be overcome, he said.
"After all, it is human beings who are responsible, human beings who also can change, groups of human beings who can also evolve in their conviction. This is something we must always take into account."
Professor Bielefeldt told the hearing – held on 26 May – that freedom of religion or belief is a universal human right, which must be also interpreted to encompass the broadest interpretation of religion.
"You see lots of countries in various regions of the world that promise freedom of religion or belief in their constitution then say, 'O.K. There are three options – you can be Jewish, Christian, Muslim. Period.'
"Sometimes it's five options. Sometimes it's six options. Sometimes it's no religions. But the starting point – if you really stick to the universalistic nature of human rights – must be the dignity of human beings and their self-understanding.
"If you know human beings, their self-understanding is very, very, very diverse," he said.
But, Professor Bielefeldt noted, the United Nations treaties concerning the issue clearly state that freedom of religion or belief "protects theistic, non-theistic, atheistic beliefs, as well as the right not to profess any religion or belief...This is the universalistic spirit, and not only spirit but also letter of human rights and freedom of religion. And this is really under threat."
A broader context
Also on the panel was the Baha'i International Community's representative to the European Union, Sarah Vader. She suggested that freedom of religion or belief should be considered in a "broader context of democracy and human rights protection."
"The EU should pay particular attention to being inclusive and fair, enabling the participation of all – including those more vulnerable groups such as women, youth, ethnic and religious minorities," said Ms. Vader, who was also speaking on behalf of EPRID, a coalition of non-governmental organizations in support of freedom of religion or belief of which the Baha'i International Community is a member.
"In relation to the EU's future policy on freedom of religion or belief, it is necessary for the process to be open, transparent and inclusive, and find a way of involving civil society at different levels, whether it be here in Brussels or at the level of capitals and delegations at the EU," she said.
Ms. Vader offered a series of recommendations by which the EU could improve its overall monitoring and approach to freedom of religion or belief, such as by establishing a special envoy for religious freedom and preparing an annual report on the progress worldwide made towards freedom of religion or belief.
Special Report
*The Baha'i World News Service has published a Special Report which includes articles and background information about Iran's campaign to deny higher education to Baha'is. The Special Report contains a summary of the situation, feature articles, case studies and testimonials from students, resources and links. *
*The International Reaction page of the Baha'i World News service is regularly updated with responses from governments, nongovernmental organizations, and prominent individuals, to actions taken against the Baha'is of Iran. *
The Media Reports page presents a digest of media coverage from around the world.