Third anniversary in prison for Iran's Baha'i leaders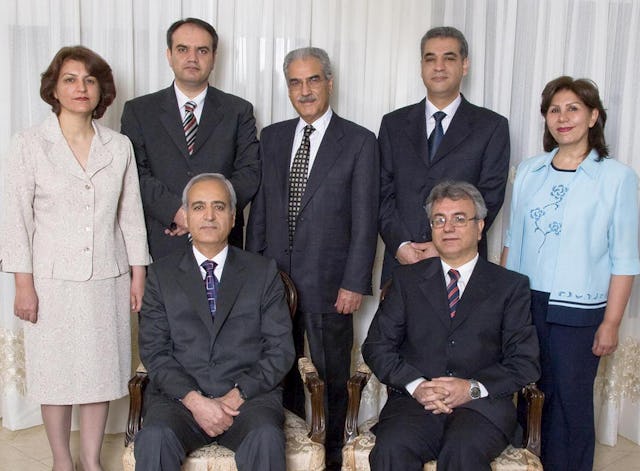 NEW YORK, United States — As seven Baha'i leaders in Iran complete their third year in jail, the Baha'i International Community has confirmed that the two women amongst them have been transferred to another prison.
The seven were all members of a national-level ad hoc group that helped attend to the needs of Iran's 300,000-strong Baha'i community.
This Saturday, 14 May, six of them – Fariba Kamalabadi, Jamaloddin Khanjani, Afif Naeimi, Saeid Rezaie, Behrouz Tavakkoli and Vahid Tizfahm – will begin their fourth year behind bars. The seventh member of the group – Mahvash Sabet – was arrested three months earlier than her former colleagues, on 5 March 2008.
After an illegal 30-month detention in Tehran's Evin prison, they were tried on trumped-up charges and sentenced in August 2010 to 20 years in jail. They have been held at Gohardasht prison since that time.
"We now know that Mrs. Kamalabadi and Mrs. Sabet were transported on Tuesday 3 May to Qarchak prison, some 45 kilometres from Tehran," said Bani Dugal, the principal representative of the Baha'i International Community to the United Nations.
"We understand that they are incarcerated with up to 400 other prisoners in a large warehouse-type room with minimum facilities," she said.
"It is not clear if this is to be a long term arrangement, but any amount of time held in any prison is too long for these innocent people."
The five men are still being held under close scrutiny in a wing of Gohardasht prison, reserved for political prisoners.
Anniversary observations
Events are taking place around the world over the next few days to mark the third anniversary of the arrest of the seven.
In the U.S.A. on Thursday 12 May, a special reception will be opened in Washington D.C. by U.S. Senator Mark Kirk, who recently introduced bipartisan resolutions in the House of Representatives and Senate calling attention to the continued plight of Iran's Baha'is.
In the Netherlands, members of religious communities and interreligious networks are being invited to offer prayers – on Friday and Saturday in the country's places of worship – for freedom of religion or belief in Iran.
A special "Solidarity Concert" is being planned in India to remember all victims of human rights abuses. The concert will be held at the auditorium of the Baha'i House of Worship in New Delhi on Wednesday 18 May.
Global outcry
The imprisonment of the Baha'i leaders has provoked widespread protests from governments throughout the world. The European Union and the President of the European Parliament have also joined the condemnation, along with numerous human rights organizations and other groups, religious leaders, and countless individuals.
Recently, the Prime Minister of the United Kingdom, David Cameron, reiterated his deep concern about the "ongoing plight of the seven Baha'i leaders and the continued attacks on the Baha'i Faith in Iran.
"Your dignity and patience is admirable in the face of such severe discrimination and intimidation for simply staying true to your faith," Mr. Cameron wrote last month in a letter to the National Spiritual Assembly of the Baha'is of the United Kingdom.
Mr. Cameron expressed his hope that the recent appointment of a UN Special Rapporteur – to monitor Iran's compliance with international human rights standards – and the imposition by the European Union of sanctions would "convey to Iran the strength of international concern over its human rights record and demonstrate that continued rights violations will not go unnoticed."