Fourth court date for imprisoned Baha'i leaders set for 12 June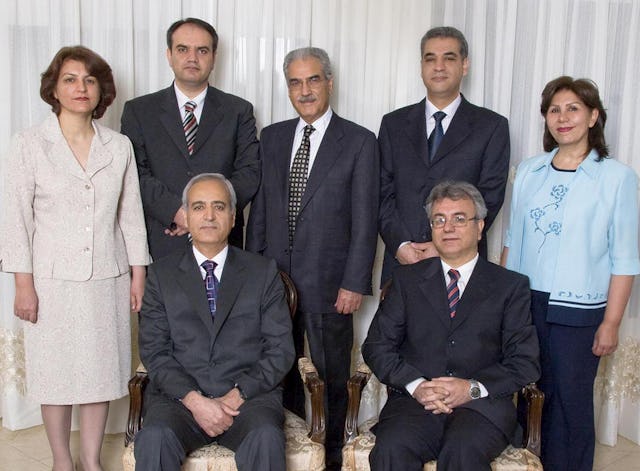 GENEVA, Switzerland — The seven Baha'i leaders imprisoned for more than two years in Iran are scheduled to make their fourth court appearance on 12 June, the Baha'i International Community has learned.
The date coincides with the first anniversary of last year's contested presidential election in Iran, as well as a global day of action aimed at calling attention to human rights abuses in that country.
The trial of the seven began on 12 January after they had been incarcerated without charge in Tehran's Evin prison for 20 months.
At the first hearing, held in Branch 28 of the Revolutionary Court in Tehran, the Baha'is categorically denied charges of espionage, propaganda activities against the Islamic order, and "corruption on earth," among other allegations.
A second appearance on 7 February was concerned mainly with procedural issues.
The third session on 12 April, which was purportedly a closed hearing, was adjourned after the seven – with the agreement of their attorneys – refused to be party to the proceedings because of the presence of nonjudicial personnel.
"To have spectators, including a film crew, in a supposedly closed hearing while denying entry to the defendants' families was unacceptable," said Diane Ala'i, Baha'i representative to the United Nations in Geneva. "There would be no objection if the trial were to be open and conducted in accordance with international standards."
"In the court sessions held so far, no evidence of wrongdoing has been presented. As their lawyers have confirmed, the defendants are completely innocent and are being persecuted solely for their religious belief," Ms. Ala'i said.
"The Iranian government should know that its actions against these innocent citizens are under scrutiny throughout the world," she said.
"Once again we call for their immediate release. Failing that, the seven should – at the very least – be released on bail pending a fair trial."
The seven defendants are Fariba Kamalabadi, Jamaloddin Khanjani, Afif Naeimi, Saeid Rezaie, Mahvash Sabet, Behrouz Tavakkoli, and Vahid Tizfahm. Before their imprisonment, they attended to the spiritual and social needs of Iran's Baha'i community, which numbers more than 300,000. Mrs. Sabet was arrested on 5 March 2008 and the others on 14 May 2008.
There are currently some 38 Baha'is in detention in various cities in Iran.