Amid wreckage in Haiti, new birth brings hope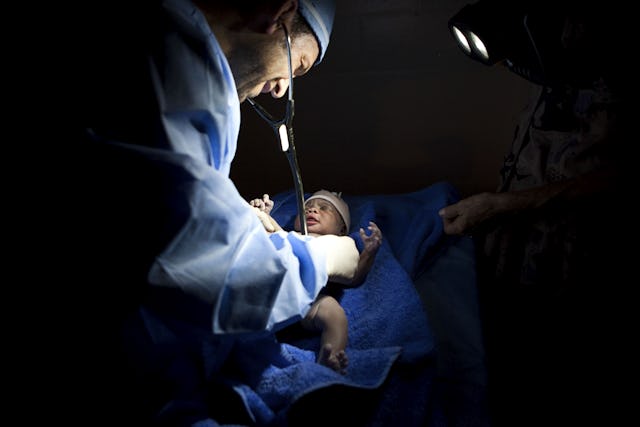 PORT-AU-PRINCE, Haiti — Little Tina Rose Wome came into the world on 28 January in a makeshift clinic, fashioned from a classroom at the Anis Zunuzi Baha'i School on the outskirts of Port-au-Prince.
An entire team of visiting doctors and nurses was on hand for her arrival – the first birth at the school in the 30 years since its founding.
The delivery was poignant in another way, too – Magdalah Wome had been pregnant three times previously but none of her other babies survived childbirth. Tina Rose is the first she has taken home – a home which now is no more than a tent pitched in front of the rubble that at one time was a house.
International relief agencies have reported that dealing with the aftermath of the earthquake that devastated Port-au-Prince on 12 January is one of the biggest challenges they have ever faced. As many as 170,000 people are believed dead, and the number of homeless may top one million.
"Whatever you see on television, it is 10 times worse," said Dr. Munirih Tahzib, a pediatrician from New Jersey who helped organize the medical team. "We would meet people whose entire family had been killed and their house destroyed. Yet they would just pick up and carry on. That is what kept us going."
Indeed, the inspiration provided by the Haitian population is a common refrain in reports from the scene. "The Haitians are not just sitting back with their hands out. They're doing a lot of the heavy lifting – so humble in its nature, it seems invisible," Time magazine said. "They dig survivors out of the wreckage by hand, not with big yellow machines."
The 18 members of the particular medical team that welcomed Tina Rose into the world were from the United States and Canada. They had come to Haiti to deliver medical supplies and treat as many patients as possible during the week they were able to stay. Additional goals were to teach people how to recognize and treat infection, and assess needs for sustainability.
The 18 visitors, many of whom were Baha'is, had made arrangements to set up their tents in the yard at the Anis Zunuzi school and create a temporary clinic in the classrooms that were still standing.
Yves and Susanna Puzo, who have long been associated with the school, lost their home in the earthquake but helped arrange for food and logistical support for the medical team, which included two pediatricians, two orthopedic surgeons, four obstetricians/gynecologists, an intensive care specialist, a hospital doctor, a nurse, a respiratory therapist, and a fourth-year medical student.
Now back home, members of the group have already had follow-up consultations about how they can provide ongoing assistance to efforts by Haitians – including the local Baha'is – to rebuild their country.
"We all learned the power of grassroots action," said Dr. Tahzib.
(The collection of 30 photographs accompanying this article provides more information about the efforts of the medical team.)