Youth art project brings citation for Nunavut resident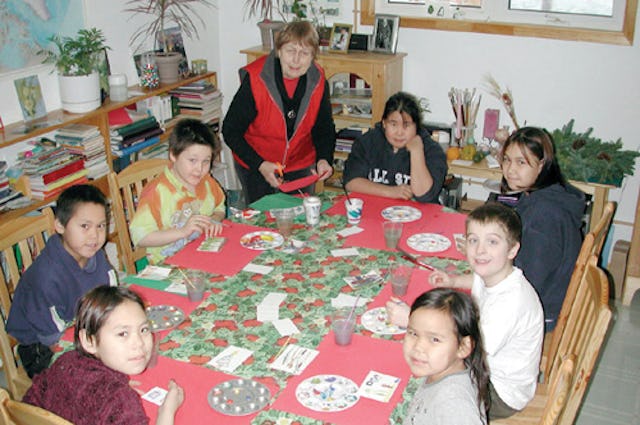 IQALUIT, NUNAVUT, Canada — Beth McKenty moved to sparsely populated northeast Canada – to Iqaluit on Baffin Island – in 1999 to fulfill a pledge, made 45 years earlier, to devote part of her life to reducing youth suicide.
Within two weeks of arriving she had begun a project to help children build self-esteem by exploring their creativity. The Arctic Youth Art Initiative has since grown to involve hundreds of children.
Ms. McKenty's efforts were acknowledged this month when she was one of 75 individuals from across Canada named as recipients of the Caring Canadian Awards for 2009. Created in 1996 by the Canadian Governor General, the award is presented to individuals and groups whose unpaid, voluntary contributions over a number of years provide extraordinary help or care to people in their community.
It has been a long and often surprising road for Ms. McKenty from her birthplace of Snowflake, Manitoba, to Iqaluit, population 7,200 and the capital of the Nunavut territory. In addition to several decades in Wisconsin, where she worked as a freelance journalist and raised a family, she has lived in Japan, China, and Russia, and she has taught at the Navajo College at Tsaile, Arizona, in the United States.
"I started out on a farm in Manitoba, one of seven children," she said. "My father was from pioneer stock and a veteran who served at Vimy Ridge. My mother, a nurse, was an Icelandic immigrant. We grew up in a home with an openness to the whole world.
"In 1954, my younger brother took his own life. One way I dealt with the anguish was to make a promise to myself that some day, somehow, I would do something to help reduce youth suicide."
It was the day of her brother's funeral that she first heard of the Baha'i Faith. As she learned of Baha'u'llah's world-embracing principle of unity, she felt it matched the values she had grown up with. A life of Baha'i activity has followed.
"I was so busy and the years went by, but my plan always included fulfilling my promise to my brother," she said. "Then in 1999, two things happened simultaneously. I read that the rate of youth suicide in newly formed Nunavut was seven times the Canadian average. Around the same time, I attended the Baha'i National Convention in Montreal where I learned of opportunities for service in the Arctic. Here was my chance."
By October, she had moved into Baha'i House in Iqaluit, located on the Arctic tundra not too far south of the Arctic circle.
'I came with a purpose'
"I came with a purpose but didn't have a method," she said. "Earlier, I had had my own artist's studio for two years and had brought my paints with me to Iqaluit. Two weeks after getting there, I heard some strange sounds and discovered two boys trying to throw stones over the house, but missing. I opened the door and asked if they'd like to come in for hot chocolate.
"Since I'd been painting, I asked them if they would like to paint, too. I explained that with red, yellow, and blue they could mix any color except white. They were shy but accepted. I was astounded at what they could paint. Their work was so northern. The wonderful heritage of the Inuit was evident in these children. They returned later with one or two friends. That's how this project began.
"I never really instructed these children. I just facilitated by providing a space and good quality materials. In addition to the painting, the children enjoy games, prizes, lunch, and occasional 'multiple' birthday parties."
Although located in Baha'i House, the project is separate from Baha'i gatherings and is offered as a service to the community. Little by little, a special format developed with greeting time followed by preparation of palettes, brushes, paper, and paint for each child.
"I soon learned," Ms. McKenty recalled, "that it matters to give exactly the same amount of materials to each child as they intently watch the preparation. I ask for six or seven minutes of silence at the beginning of painting. I've learned talking disturbs the creative moment. Often, silence continues a long time as the young artists become absorbed in what they are creating."
Saturday morning sessions
Gradually more children came, bringing their friends. Today, the Saturday morning workshops still average five to 20 participants, from 4 to 14 years of age.
"There are many benefits to the project beyond the art," Ms. McKenty said. "It is also important that children make friends here. A child who has been very unpopular with others can produce something unusual or very beautiful. This changes the others' feelings and the child's sense of worth.
"I can't say for sure that as an adult they won't take their lives, but I know there is much less chance of it if they have become proud of their work, give and receive praise, and learn more about human relationships.
"My experience shows me that every human being is an artist. When we recognize it, it helps inform us about our own soul."
The Arctic Youth Art Initiative has steadily expanded, including visits to schools. With the support of other individuals and organizations, workshops have been held in eight other settlements in Nunavut, including the two most northerly, Resolute and Grise Fiord. Participants' work has been shown in the Nunavut Legislature, in Iqaluit's Nunatta Sanukkataangit Museum, as well as the Glenbow Museum in Calgary and the Marion Scott Inuit Art Gallery in Vancouver.
This summer, two especially gifted young artists are being given two weeks of individual instruction and visits to galleries and museums by the Ottawa School of Art, in recognition of the eight years they have regularly come to the workshops.
"Life is so rich for me as a Baha'i," said Ms. McKenty. "I have learned to look at each human being, quite literally, as family. My hope is that this is part of what children feel here, that we are really united in what we are doing, that I am not a teacher from a different place, just a friend.
"It was overwhelming to me, returning two years ago from the funeral of my son Jack Jr. in Los Angeles, to answer the doorbell and find an enormous basket of orchids and lilies delivered with a note from 'your friends, the taxi drivers of Iqaluit.' Although this project is aimed at children, apparently it has reached other hearts, and my own continues to be educated by this privilege of living and working in Iqaluit."
Editor's note: This article was first published by the Canadian Baha'i News Service.