Baha'i International Community issues statement on poverty eradication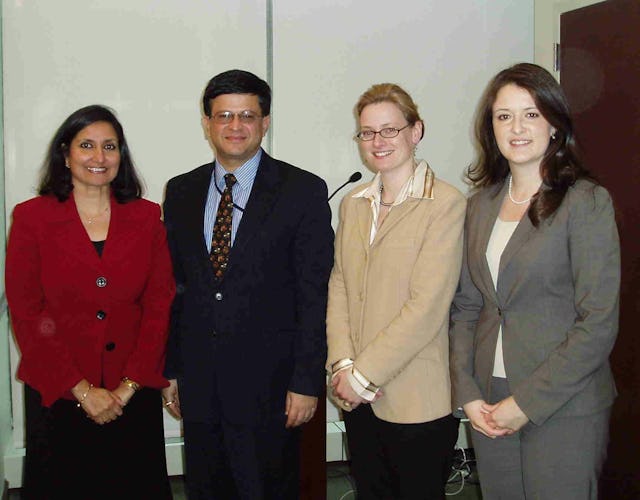 NEW YORK, United States — A new statement from the Baha'i International Community calls for a coherent, principle-based approach to the eradication of global poverty.
BIC representatives introduced the statement, "Eradicating Poverty: Moving Forward as One," yesterday at a luncheon held at their offices across from the United Nations. About 40 representatives from various nongovernmental organizations and UN agencies gathered for the presentation.
Tahirih Naylor, a Baha'i representative to the United Nations, said the statement was released to coincide with the 46th Commission for Social Development at the United Nations, which runs 6-15 February 2008.
"This year, the commission is focusing on the themes of promoting full employment and decent work for all," said Ms. Naylor. "These are important aspects of poverty eradication, but we wanted to advocate a more coherent approach, one that looks at the wide range of issues that must be addressed in an integrated way if global poverty is to be eliminated."
The statement calls on both institutions and individuals internationally to put essential moral principles, such as unity and justice, first. It recasts the underlying nature of poverty, saying it "can be described as the absence of those ethical, social and material resources needed to develop the moral, intellectual and social capacities of individuals, communities and institutions."
The statement also examines a number of specific topical areas where poverty alleviation efforts can be most effectively focused. These include leadership and governance, human rights, gender, sustainable development, agriculture, employment, individual responsibility, education, and religion.
Those gathered for the presentation were addressed by Nikhil Seth, from the UN Department of Economic and Social Affairs (DESA), and Julia Berger, senior researcher and writer for the Baha'i International Community.
Mr. Seth said the statement's "key message is that solidarity of action is what we need. If we can galvanize that spirit, we'll have won the battle."
Mr. Seth, who is director of the Office for ECOSOC Support and Coordination at DESA, shared his experience in developing nations, including his native India, and recommended an additional focus on country-specific solutions. "Generic solutions are not sufficient," he said, noting that land issues and culture play strong roles. "A community-specific analysis is needed to tackle poverty."
Mr. Seth also stressed the related problem of hunger. "The problem of malnourishment requires a whole different set of interventions," he said, saying that in his country more than 40 percent of children under 5 are malnourished.
Mr. Seth also noted that international agencies sometimes place too much emphasis on measuring poverty rather than doing something about it.
"Macroeconomic aggregates do not really capture the indignities of poverty the way your statement has done so beautifully," he said.
Ms. Berger said that the issue of poverty is inextricably linked to other complex factors such as human rights, development, and environmental circumstances. It is a positive indication, she said, that the UN community is beginning to realize the interconnectedness of all these factors and focusing on ways to formulate an integrated approach.
"Not to overstate the case, but the change in thought required to get to this point is like the Copernican revolution of recognizing that the earth revolves around the sun, and not the other way around," Ms. Berger said.
Ms. Naylor said the statement was initially drafted in response to a call from the UN Human Rights Council for a consultation on "draft guiding principles" to help focus the discussion on the link between human rights and extreme poverty.
As part of that process, the BIC contacted selected members of the Baha'i community around the world and asked them to organize discussions on poverty and human rights involving individuals from the local level.
"These discussions took place in six countries – Brazil, Guyana, Haiti, India, Namibia and Turkey – and the consultations there provided first-hand experiences and impressions from individuals who are most affected by poverty."
To read Eradicating Poverty: Moving Forward as One, click here.