Photos on new Web site bring into focus the life of Baha'u'llah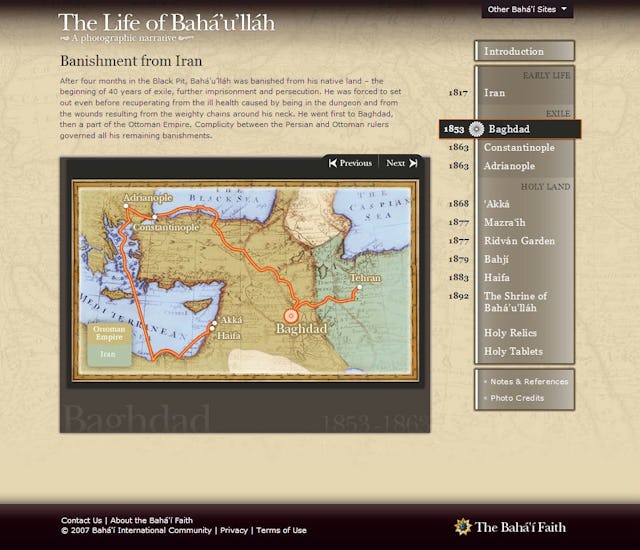 HAIFA, Israel — A new Web site featuring photographs that help viewers experience the life of Baha'u'llah has been launched by the Baha'i International Community.
Some of the photographs have not been published before, and many of them have had only limited distribution.
The launch of the Web site comes just before the Baha'i holy day on 12 November that marks the anniversary of the birth of Baha'u'llah.
"The purpose of the Web site is to provide illustration of Baha'u'llah's life through photographs of places and artifacts and relics associated directly with Him," said Douglas Moore, director of the Office of Public Information of the Baha'i International Community.
"We've tried to bring together a unique collection of photos, many of them not generally available, so that you get a better sense of Baha'u'llah's life and the time period in which He lived," Mr. Moore said.
Rather than providing a comprehensive history or literary presentation of the Baha'i Faith, the new Web site aims rather to be impressionistic.
"It's more contemplative, more experiential," Mr. Moore said.
Thus it complements other Web sites that do provide a more complete description of the religion, he said.
Baha'u'llah was a Persian nobleman who in the 19th century claimed to be nothing less than a new and independent Messenger from God, the one whose advent was anticipated by all the divine Messengers of the past - including Abraham, Krishna, Moses, Zoroaster, Buddha, Jesus, and Muhammad - and foretold in the holy books.
Baha'u'llah, who was born in 1817, was exiled from his native Tehran and banished to the Ottoman Empire - to Baghdad, Constantinople (now Istanbul), and finally Acre.
"The new Web site is appropriate for a range of audiences, not only Baha'is and those who have a deep interest in the Baha'i Faith, but also people who, from an academic or historical perspective, want to see what kind of photographic documentation exists for such a unique figure as Baha'u'llah," Mr. Moore said.
He noted that the Web site does not include a photograph of Baha'u'llah Himself. Such a photograph does exist, but it is treated with extreme reverence and viewed only in special circumstances; it is never published by Baha'is, nor would Baha'is reproduce it.
The photographs on the Web site are from the archives at the Baha'i World Center in Haifa.
The address of the site is www.bahaullah.org.