Baha'is honor champion of human rights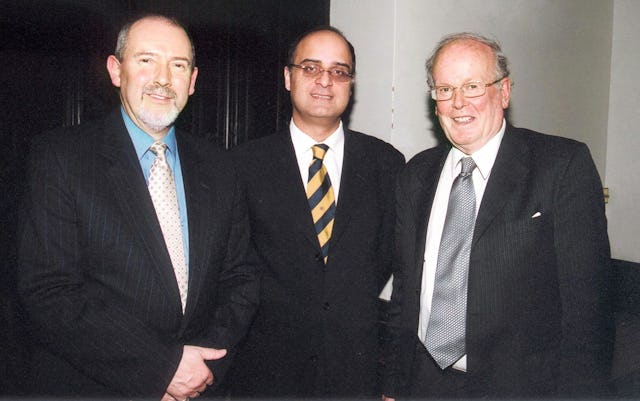 LONDON, England — A former British parliamentarian, Sydney Chapman, received the inaugural Blomfield Award for Human Rights at a ceremony organized by the United Kingdom Baha'i community's national governing council and the Barnet Baha'i community.
The Baha'is of the United Kingdom have established the Blomfield Award -- named after Lady Blomfield, a prominent early British Baha'i -- to present to individuals in British public life who have offered consistent and exceptional support towards the defence of Baha'is in countries where they are persecuted for their religious faith, notably in Iran.
At the ceremony held in Barnet, North London, on 6 December 2005, Baha'i spokesman, the Hon. Barney Leith, praised the efforts of Sir Sydney to speak out for the Baha'is in Iran.
"Sir Sydney repeatedly defended the human rights of the Baha'is by tabling Parliamentary questions and motions and speaking in debates," said Mr. Leith, secretary for external affairs of the United Kingdom Baha'i community.
In reply, Sir Sydney spoke of his admiration for the Baha'i community. "I should like to thank the Baha'is, not only the 6,000 here in the UK, but the five to six million Baha'is around the world, for all that you do to promote human unity," he said.
Sir Sydney said that he attached great importance to the struggle for human rights and to efforts to reduce the damage to the earth's natural environment.
Sir Sydney admired the artistic design of the award itself, which was conceived and crafted by Switzerland-based artist Myriam Bargetze. Ms. Bargetze used a quotation from the Baha'i writings as her inspiration for the alabaster and turquoise piece: "Regard man as a mine rich in gems of inestimable value."
Barnet Deputy Mayor, Victor Lyon, and the Deputy Mayoress attended the ceremony, representing the borough.
A musical group, Gye Nyame, performed a Baha'i prayer set to their own choral melodies.
Sir Sydney retired from Parliament in 2005 having served the people of Barnet since 1979. Members of the Barnet Baha'i community also honoured Sir Sidney, presenting him with a commemorative certificate to mark his retirement from public life.
Closing the ceremony Dr. Kishan Manocha, secretary of the National Spiritual Assembly of the Baha'is of the United Kingdom, said the Baha'is had gathered to acknowledge Sir Sydney's contribution and to honor him.
"There should be no doubt that Sir Sydney's distinguished record of defending the Iranian Baha'is is of great value in the ongoing efforts to emancipate that community," Dr. Manocha said.